Hardball: How Politics Is Played Told by One Who Knows the Game (Paperback)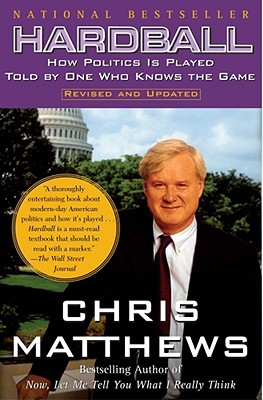 Description
---
How politics is played by one who knows the game...host of MSNBC's Hardball, Chris Matthews. Chris Matthews has spent a quarter century on the playing field of American politics--from right-hand man of Speaker of the House Tip O'Neill to host of NBC's highest rated cable talk show Hardball. In this revised and updated edition of his political classic, he offers fascinating new stories of raw ambition, brutal rivalry, and exquisite seduction and reveals the inside rules that govern the game of power.
Praise For…
---
The Wall Street Journal

A thoroughly entertaining book about modern-day American politics and how it's played...Hardball is a must-read textbook that should be read with a marker.


Stephen Stark
The Washington Post

Every so often a writer reads a book so incisive and so good that when he finally puts it down he says, "Damn, I wish I had written this." I just finished Christopher Matthews' Hardball. And damn, I wish I had written this.


George F. Will


Matthews is half Huck Finn and half Machiavelli in this exuberant guide to the great game of politics.


Christopher Lehmann-Haupt
The New York Times

Savvy and amusing...Fresh and original.


Ben Bradlee
author of A Good Life and Conversations with Kennedy

Christopher Matthews writes about politics with relish -- the way sports writers cover boxing.


Hendrik Hertzberg
Senior Editor, The New Yorker

People will be quoting Hardball as long as the game of politics is played.


Thomas P. "Tip" O'Neill, Jr.


The best in the business!


Sam Donaldson


Brilliant! God may take care of fools, drunks and the United States, but Chris Matthews has the goods on how Washington politicians take care of the rest of us.


William Safire


Chris Matthews hits a political homer with Hardball. For political sagacity and humor, this ranks with the work of George Washington Plunkitt.


Tim Russert


In Washington, everyone says they "practice" politics, and "develop" policy. But to succeed they know they must "play hardball." This book smartly captures that central truth!