Tell Newt to Shut Up: Prize-Winning Washington Post Journalists Reveal How Reality Gagged the Gingrich Revolution (Paperback)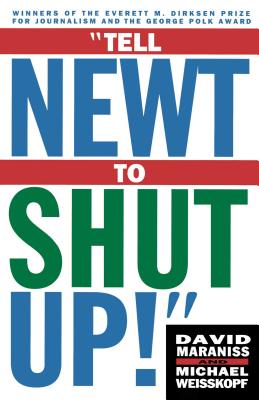 $16.95
Not On Our Shelves—Ships in 1-5 Days
Description
---
PRIZEWINNING WASHINGTON POST JOURNALISTS REVEAL HOW REALITY GAGGED THE GINGRICH REVOLUTION
Speaker Newt Gingrich and his troops promised a revolution when they seized power in January 1995. The year that followed was one of the most fascinating and tumultuous in modern American history. After stunning early success with the Contract with America, the Republicans began to lose momentum; by year's end Gingrich was isolated and uncertain, and his closest allies were telling him to shut up.
Here is an unprecedented, fly-on-the-wall look at the successes, sellouts, and perhaps fatal mistakes of Newt Gingrich's Republican Revolution. Based on the award-winning Washington Post series that documented the Republicans' day-to-day attempts to revolutionize the American government, "Tell Newt to Shut Up!" gets to the heart of the political process.
About the Author
---
David Maraniss is an associate editor at The Washington Post and a distinguished visiting professor at Vanderbilt University. He has won two Pulitzer Prizes for journalism and was a finalist three other times. Among his bestselling books are biographies of Bill Clinton, Barack Obama, Roberto Clemente, and Vince Lombardi, and a trilogy about the 1960s—Rome 1960; Once in a Great City (winner of the RFK Book Prize); and They Marched into Sunlight (winner of the J. Anthony Lucas Prize and Pulitzer Finalist in History). A Good American Family is his twelfth book.
Praise For…
---
Stephen E. Ambrose bestselling author of D-Day and Undaunted Courage Politicians put on the best show in town -- and here they are with all their hypocrisy and idealism, self-service and public service, stupidity and sense, high drama and low skulduggery. It makes for wonderful reading.

David Broder This is a wonderful look inside the revolution. It is a vivid portrait of the ups and downs, ins and outs, of Newt Gingrich and the gang.