Bad Elements: Chinese Rebels from Los Angeles to Beijing (Paperback)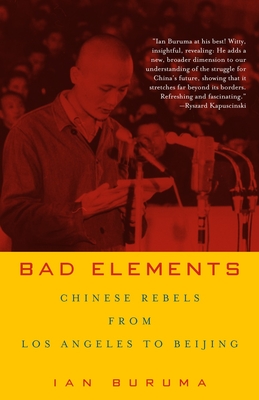 $15.00
Special Order—Subject to Availability
Description
---
Who speaks for China? Is it the old men of the politbureau or an activist like Wei Jingshsheng, who spent eighteen years in prison for writing a democratic manifesto? Is China's future to be found amid the boisterous sleaze of an electoral campaign in Taiwan or in the maneuvers by which ordinary residents of Beijing quietly resist the authority of the state?
These are among the questions that Ian Buruma poses in this enlightening and often moving tour of Chinese dissidence. Moving from the quarrelsome exile communities of the U. S. to Singapore and Hong Kong and from persecuted Christians to Internet hacktivists, Buruma captures an entire spectrum of opposition to the orthodoxies of the Communist Party. He explores its historical antecedents its conflicting notions of freedom and the paradoxical mix of courage and cussedness that inspires its members. Panoramic and intimate, disturbing and inspiring, Bad Elements is a profound meditation on the themes of national identity and political struggle.
About the Author
---
Ian Buruma studied Chinese in the Netherlands and cinema in Japan. He has spent many years in Asia, which he has written about in God's Dust, Behind the Mask, and The Missonary and the Libertine. He has also written Playing the Game, The Wages of Guilt, and Anglomania. Buruma lives in London and writes for The New York Review of Books and The New York Times Magazine, as well as other publications."
Praise For…
---
"Ian Buruma is a powerful storyteller. . . . Bad Elements is the best book yet written on Chinese dissidents." --The New York Review of Books

"[Buruma is] one of the sharpest minds writing about Asia. . . . A brilliant examination . . . impressively comprehensive." —The Wall Street Journal

"[Buruma's] sharply observed and well-drawn portraits of obstinate, courageous and sometimes flawed people inspire admiration and compassion....A vivid history of repression and resistance." —The New York Times Book Review

"An intellectual travelogue that gradually circles Beijing before ending up there...Buruma has a good eye for the small ironies of exile." —The Washington Post Book World