1898: The Birth of the American Century (Paperback)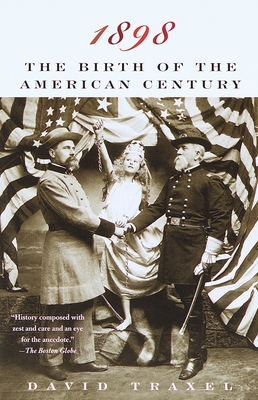 $17.00
Special Order—Subject to Availability
Description
---
In 1898: The Birth of the American Century, David Traxel tells the story of a watershed year, a year of foreign conflict, extravagant adventure, and breakneck social change that forged a new America--a sudden empire with many far-flung possessions, a dynamic new player upon the global stage.
At the heart of this vivid, anecdotal history is a masterly account of the Spanish-American War, the -splendid little war- that garnered the nation Guam, Puerto Rico, and the Philippines. From the sinking of the Maine in waters off Havana to Teddy Roosevelt's rough riders and the triumph of Admiral Dewey, here is the lightning-swift military episode that transformed America into a world power. Here too are many stories not so often told--the bloody first successes of the new United Mine Workers, the tentative beginnings of the Ford Motor Company, the million-dollar launch of the Uneeda Biscuit--each in its way as important as the harbinger of the American century. Compulsively readable, frequently humorous, utterly fascinating in its every detail, 1898 is popular history at its finest.
About the Author
---
David Traxel received his B.A. in history from the University of California, Berkley, and earned his M.A. and Ph.D. at the University of California, Santa Cruz. He has been the recipient of Fulbright, Smithsonian, and National Endowment for the Humanities fellowships, and is the author of An American Saga: The Life and Times of Rockwell Kent. Currently at work on a biography of the American journalist Richard Harding Davis, Traxel lives with his wife, Rosemary, in Philadelphia.
Praise For…
---
"History composed with zest and care and an eye for the anecdote."- The Boston Globe

"Engaging, compelling and gracefully written."-Los Angeles Times

"Entertaining... A fund of good stories."- The New York Times Book Review

"Traxel is a lucid, engaging writer with a sure sense of narrative movement."-The Washington Post