Make No Law: The Sullivan Case and the First Amendment (Paperback)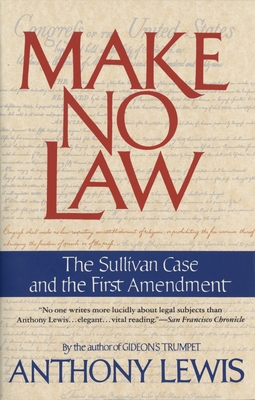 $17.95

Special Order—Subject to Availability
Description
---
A crucial and compelling account of New York Times Co. v. Sullivan, the landmark Supreme Court case that redefined libel, from the Pulitzer Prize–winning legal journalist Anthony Lewis.

The First Amendment puts it this way: "Congress shall make no law...abridging the freedom of speech, or of the press." Yet, in 1960, a city official in Montgomery, Alabama, sued The New York Times for libel—and was awarded $500,000 by a local jury—because the paper had published an ad critical of Montgomery's brutal response to civil rights protests.

The centuries of legal precedent behind the Sullivan case and the U.S. Supreme Court's historic reversal of the original verdict are expertly chronicled in this gripping and wonderfully readable book by the Pulitzer Prize Pulitzer Prize–winning legal journalist Anthony Lewis. It is our best account yet of a case that redefined what newspapers—and ordinary citizens—can print or say.
About the Author
---
Anthony Lewis was a two-time Pulitzer Prize-winning journalist who transformed American legal journalism. He is the author of Gideon's Trumpet which concerned Gideon v. Wainwright, the 1963 decision that guaranteed lawyers to poor defendants charged with serious crimes. His book Make No Law: The Sullivan Case and the First Amendment is an account of New York Times v. Sullivan, the 1964 Supreme Court decision that revolutionized American libel law. Lewis was a New York Times reporter at the Supreme Court from 1957 to 1964 and wrote an Op-Ed column for thirty years called "At Home Abroad" or "Abroad at Home" depending on where he was writing from . He also taught at the Harvard Law School where he was a Lecturer on Law from 1974 to 1989. He has also been the James Madison Visiting Professor at Columbia University. Anthony Lewis died in 2013 at the age of 85.
Praise For…
---
"A riveting detailed account...[Make No Law] is nothing less than a comprehensive history of free speech in America."—Philadelphia Inquirer

"Superbly written... a compelling drama that clearly places the Sullivan decision in the context of the court's still evolving notions of free speech and fully illuminates the constitutional principles at stake...an essential guide." —Boston Globe