The Heathen School: A Story of Hope and Betrayal in the Age of the Early Republic (Hardcover)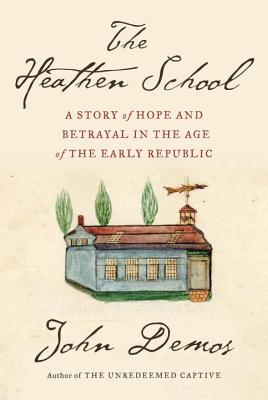 Description
---
Longlisted for the 2014 National Book Award
The astonishing story of aunique missionary project and the America it embodied from award-winning historian John Demos.
Near the start of the nineteenth century, as the newly established United States looked outward toward the wider world, a group ofeminent Protestant ministers formed agrand schemeforgathering the rest of mankindinto the redemptive fold ofChristianity and civilization. Its core element was a special school for heathen youth drawn from all parts of the earth, including the Pacific Islands, China, India, and, increasingly, the native nations of North America. If all went well, graduates would return to join similar projects in their respective homelands. For some years, the school prospered, indeed became quite famous. However, when two Cherokee students courted and married local women, public resolve and fundamentalideals were putto a severetest.
The Heathen School follows the progress, and the demise, of this first true melting pot through the lives of individual students: among them, Henry Obookiah, a young Hawaiian who ran away from home and worked as a seaman in the China Trade before ending up in New England; John Ridge, son of a powerful Cherokee chief and subsequently a leader in the process ofIndian removal; and Elias Boudinot, editor of the first newspaper published by and for Native Americans. From its birth as a beacon of hope foruniversal salvation, the heathen school descends into bitter controversy, as American racial attitudes harden and intensify. Instead of encouraging reconciliation, the school exposes the limits of tolerance and setsoff a chain of events that will culminate tragically in the Trail of Tears.
In The Heathen School, John Demos marshals his deep empathy and feel for the textures of history to tell a moving story of families and communities and to probe the very roots of American identity.
About the Author
---
John Demos is the Samuel Knight Professor Emeritus of History at Yale University. His previous books includeThe Unredeemed Captive, which won the Francis Parkman Prize and was a finalist for the National Book Award, andEntertaining Satan, which won the Bancroft Prize. He lives in Tyringham, MA."
Praise For…
---
Praise for The Heathen School: A Story of Hope and Betrayal in the Age of the Early Republic:

"Absorbing . . . considerable narrative skills are again on display . . . the men and women in his stories come alive across the centuries . . . The book is peopled with a long cast of interesting characters—preachers, professors, philanthropists, missionaries, tribal chiefs."
—Melanie KirkPatrick, The Wall Street Journal

"Strange and fascinating narrative history . . . Demos gracefully interweaves the two couples' stories with the historical and intellectual context in which they took place, raising key questions (espically, and devestatingly, '[m] not the heathen prefer to remain as they were?')."
—Kate Tuttle, The Boston Globe

"Cornwall, a small community in northwestern Connecticut, would seem to have been an unlikely place to launch a campaign to save the world. But as John Demos recounts in this wonderfully crafted, deeply disturbing narrative, that is precisely what happened during the early decades of the 19th century. . . This splendid reconstruction of everyday life. . . Demos. . .  describes what happened at Cornwall as a story of 'high hopes, valiant effort, leading to eventual tragic defeat.'"
—The American Scholar

"Demos, a Yale historian and master of micro-history (Bancroft and Parkman Prize winner for Unredeemed Captive), turns his attention here to a well-intentioned 1820s effort to create a Connecticut school to Christianize "heathens" (mostly Indians and Hawaiians) and send them forth to missionize . . . Demos tells this tall with scarcely hidden feeling. His research is characteristically prodigious, his writing disarming, and his story captivating and of national resonance."
—Publishers Weekly

"Demos manages a sly, significant feat in this historical study/personal exploration. . . In "interludes" alternating with his historical narrative, Demos chronicles his visits to the places involved—e.g., Hawaii, Cornwall—in order to impart a personal commitment to this collective American tragedy. A slow-building saga that delivers a powerful final wallop."
—Kirkus (Starred Review)
 
"The masterful account of a utopian 19th century experiment in education -- one that goes painfully awry.  A splendidly nuanced, wholly absorbing tale; patiently, brilliantly, John Demos coaxes unexpected lessons from a singular collision of enlightenment and assimilation."
—Stacy Schiff, Pulitzer Prize winning author of Cleopatra: A Life
 
"Demos has done it again, finding macroscopic meanings within a microscopic locale, which in this instance is a school in Cornwall, Connecticut, designed to civilize heathens into mainstream American culture in the early years of the nineteenth century. The best of intentions have the worst of consequences in this story, and the tragedies that almost inevitably ensue are like tombstones telling the saddest story of all. In my judgment, no one know how to manage this material as well as Demos, disdaining moralistic judgments and condescending appraisals in favor of an elegiac tone that makes us all complicitous in 'the tragedy.'"
—Joseph J. Ellis, author of Revolutionary Summer
 
"This moving, engrossing history of an early American experiment in multicultural education charts the collision between soaring aims and human limitations. An evangelical boarding school in a remote Connecticut town aimed at the romantic, hugely ambitious goal of converting the world's heathens to Protestantism. Instead, conflict over interracial marriage became emblematic of Americans' failure to fulfill their highest dreams. Embedding personal stories in the long history of Anglo-Americans encounter with "others," Demos weaves a compelling tale that invites us to reflect on the meaning of the nation's struggles towards equality."
—Richard D. Brown, author of The Strength of a People
 
"The global meets the local as rarely before in The Heathen School, an eye-opening story about a stunningly cosmopolitan community in the heart of early national New England. John Demos uses his powerful literary gifts and insight to animate the experiences of people brought together by love, learning, and loss, across dramatic cultural divides. Imaginative, compassionate, and exquisitely written, this book will change your understanding of America's founding project to make a difference for the world—and to make our different peoples into a national whole."
—Maya Jasanoff, author of Liberty's Exiles
 
"In 1816, in a small town in Connecticut, wide-eyed Christian missionaries opened a school for 'heathens,' hoping to train young men from the four corners of the world to spread the word of God. John Demos's deeply moving account of the school's rise and fall tells at once of its founders' grand ambitions and its students' tangled fates. 'The hills of little Cornwall/Themselves are dreams,' the poet Mark Van Doren once wrote. Demos, a consummate storyteller, has written a parable about the nature of the American experiment itself: the hills and valleys of our dreams." 
—Jill Lepore, author of Book of Ages: The Life and Opinions of Jane Franklin