The Foods of Israel Today: More Than 300 Recipes--And Memories--Reflecting Israel's Past and Present Through Its Many Cuisines (Hardcover)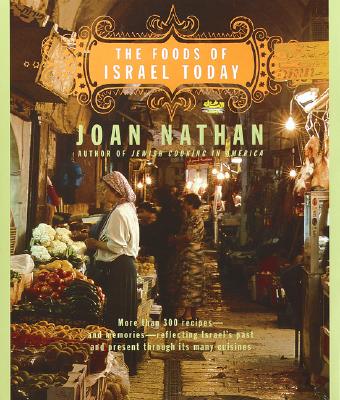 $40.00

Special Order—Subject to Availability
Description
---
"Joan Nathan has created a masterful blend of food and culture. She takes her reader on an extraordinary journey through the history of the land of Israel and the development of modern Israeli food. I was delighted to visit all the different ethnic communities that have contributed to Israeli cuisine, and my mouth watered just imagining the feast that Joan Nathan describes."
--Teddy Kollek, former mayor of Jerusalem In this richly evocative book, Joan Nathan captures the spirit of Israel today by exploring its multifaceted cuisine. She delves into the histories of the people already settled in this nearly barren land, as well as those who immigrated and helped to quickly transform it into a country bursting with new produce. It is a dramatic and moving saga, interlarded with more than two hundred wonderful recipes that represent all the varied ethnic backgrounds. Every recipe has a story, and through these tales the story of Israel emerges. Nathan shows how a typical Israeli menu today might include Middle Eastern hummus, a European schnitzel (made with native-raised turkey) accompanied by a Turkish eggplant salad and a Persian rice dish, with, perhaps, Jaffa Orange Delight for dessert. On Friday nights she visits with home cooks who may be preparing a traditional Libyan, Moroccan, Italian, or German meal for their families, the Sabbath being the focal point of the week throughout Israel (all her recipes are accordingly kosher). And she takes us to markets overflowing with vegetables, fruits, herbs, and spices. To gather the recipes and the stories, Nathan has been traveling the length and breadth of Israel for many years--to a Syrian Alawite village on the northern border for a vegetarian kubbeh and to Bet She'an for potato burekas; to the Red Sea for farmed sea bream and to the Sea of Galilee for St. Peter's fish; to Jerusalem's Bukharan Quarter for Iraqi pita bread baked in a wood-fired clay oven, to the Nahlaot neighborhood for Yemenite fried pancake-like bread, and to a Druse village for paper-thin lavash; to a tiny restaurant in Haifa for Turkish coconut cake and to a wedding at Kibbutz May'ayan Baruch in the upper Galilee for Moroccan sweet couscous; and to many, many other places. All the while, she seeks out biblical connections between ancient herbs and vegetables and their modern counterparts, between Esau's mess of pottage and today's popular taboulleh, and she delights us with tales of all she encounters. Throughout, Joan Nathan shows us how food in this politically turbulent land can be a way of breaking down barriers between Jews, Moslems, and Christians. Generously illustrated with colorful photographs, this enormously engaging book is one to treasure, not only as a splendid cookbook but also as a unique record of life in Israel.
About the Author
---
Joan Nathan was born in Providence, Rhode Island. She graduated from the University of Michigan with a master's degree in French literature. For three years she lived in Israel, where she worked for Mayor Teddy Kollek of Jerusalem. She then went on to earn a master's degree in public administration from Harvard University's Kennedy School of Government. In New York, where she worked for Mayors Lindsay and Beame, she founded the Ninth Avenue Food Festival. She lectures frequently around the country and contributes articles on international ethnic food and special holiday features to the New York Times, Food and Wine, Gourmet, and Hadassah Magazine. She is the author of six previous books, including Jewish Cooking in America, which won both the James Beard Award and the IACP/Julia Child Cookbook of the Year Award. She is the host of the nationally syndicated television series Jewish Cooking in America with Joan Nathan, based on the book. Ms. Nathan lives in Washington, D.C., with her husband, Allan Gerson, and their three children.
Praise For…
---
"Joan Nathan has created a masterful blend of food and culture. She takes her reader on an extraordinary journey through the history of the land of Israel and the development of modern Israeli food. I was delighted to visit all the different ethnic communities that have contributed to Israeli cuisine, and my mouth watered just imagining the feast that Joan Nathan describes."
-Teddy Kollek, former mayor of Jerusalem

"In The Foods of Israel Today Joan Nathan celebrates Israel's rich and flavorful diversity. It is a remarkable cornucopia of Israel's Jewish, Muslim, and Christian culinary traditions, including recipes being made in Israel today that originated everywhere from Morocco to Argentina to Transylvania to Rome. There are so many new dishes to try! In short, The Foods of Israel Today is a mitzvah and a mechiah."
-Sara Moulton

"Joan Nathan's cookbook is an intensely individual one, full of personal anecdotes and excerpts of relevant stories by various authors. I read this cookbook like a novel and really enjoyed learning more about the culture and cuisine of Israel. I also had the most incredible urge to try every recipe while I was reading the cookbook-a sure sign that a cookbook will be a hit."
-Daniel Boulud

"I have been waiting a long time for this book. The years Joan Nathan has taken to 'get it right' show on every page. No one has dealt with Israel with this combination of scholarship, good storytelling, and the pure joy of a gifted cook. This is one of those books that softens and opens the 'otherness' of a complex country. Thank you, Joan, for a masterful piece of work and for building a much-needed bridge. It goes on my short shelf of classics."
-Lynne Rossetto Kasper

"Joan Nathan's new book is just wonderful and so accessible. I think it is a major work."
-PaulaWolfert

"Israel may be the world's smallest melting pot and no one is more qualified than Joan Nathan to chronicle its culinary riches. In this remarkable book, she has written the 'greatest story never told.' Every recipe nourished my spirit, every page made me hunger for Israel's shared table."
-Rozanne Gold