We're following all official guidelines to keep ourselves healthy on the job, and as a result, shipping may be delayed.
You will receive an email from our web orders team confirming that your order has been processed.
We thank you for your support and your patience at this challenging time.
In Search of Lost Time, Volume 6: Time Regained, a Guide to Proust (Hardcover)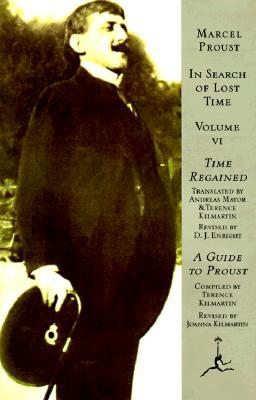 Special Order—Subject to Availability
Description
---
The final volume of In Search of Lost Time chronicles the years of World War I, when, as M. de Charlus reflects on a moonlit walk, Paris threatens to become another Pompeii. Years later, after the war's end, Proust's narrator returns to Paris, where Mme. Verdurin has become the Princesse de Guermantes. He reflects on time, reality, jealousy, artistic creation, and the raw material for literature - his past life. This volume also includes the indispensable Guide to Proust, an index to all six volumes of the novel. The final volume of a new, definitive text of A la recherche du temps perdu was published by the Bibliotheque de la Pleiade in 1989. For this authoritative English-language edition, D. J. Enright has revised the late Terence Kilmartin's acclaimed reworking of C. K. Scott Moncrieff's translation to take into account the new French editions.

About the Author
---
MARCEL PROUST was born in Auteuil in 1871. The other volumes of A la recherche du temps perdu are Swann's Way (1913), Within a Budding Grove (1919), The Guermantes Way (1920-21), Sodom and Gomorrah (1921), The Captive (1923), and The Fugitive (1925). Proust died in 1922, and the final volumes were published posthumously. "From the Trade Paperback edition."