Hot: Living Through the Next Fifty Years on Earth (Hardcover)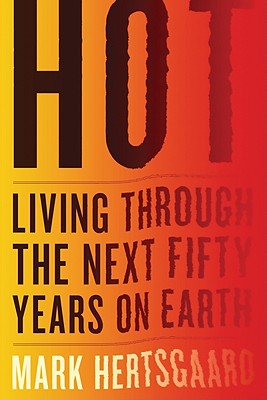 Out of Print in This Format
Description
---
A fresh take on climate change by a renowned journalist driven to protect his daughter, your kids, and the next generation who'll inherit the problemFor twenty years, Mark Hertsgaard has investigated global warming for outlets including the New Yorker, NPR, Time, Vanity Fair, and The Nation. But the full truth did not hit home until he became a father and, soon thereafter, learned that climate change had already arrived―a century earlier than forecast―with impacts bound to worsen for decades to come. Hertsgaard's daughter Chiara, now five yea rs old, is part of what he has dubbed "Generation Hot"--the two billion young people worldwide who will spend the rest of their lives coping with mounting climate disruption.
HOT is a father's cry against climate change, but most of the book focuses on s olutions, offering a deeply reported blueprint for how all of us―as parents, communities, companies and countries―can navigate this unavoidable new era. Combining reporting from across the nation and around the world with personal reflections on his daugh ter's future, Hertsgaard provides "pictures" of what is expected over the next fifty years: Chicago's climate transformed to resemble Houston's; dwindling water supplies and crop yields at home and abroad; the redesign of New York and other cities against mega-storms and sea-level rise. Above all, he shows who is taking wise, creative precautions. For in the end, HOT is a book about how we'll survive.
About the Author
---
MARK HERTSGAARD, called "one of America's finest reporters" by Barbara Ehrenreich, is the author of five previous books that have been translated into sixteen languages, including On Bended Knee: The Press and the Reagan Presidency and Earth Odyssey: Around the World in Search of Our Environmental Future.
Praise For…
---
"Passionate and somber...[HOT's] urgent message is one that citizens and governments cannot afford to ignore." —Boston Globe"Informative and vividly reported book...passionate." —San Francisco Chronicle

"[A] readable, passionate book . . . persuasively argues that human survival depends on bottom-up, citizen-driven government action." —Publishers Weekly

"Climate change is well underway, writes Hertsgaard, and we must begin to adapt to it even as we work to stop it....The author's stated goal is to make readers feel hopeful so that they will act, but he is candid about his own lapses into despair. . . . Hopefully, this book will prompt readers to action. Starkly clear and of utmost importance." —Kirkus Reviews (starred)"In Hot, one of America's finest journalists confronts one of the world's most urgent problems. Hertsgaard cuts through the denial and disinformation about climate change, offering a clear, tough-minded view of our predicament. More important, he shows that the worst harms of global warming are not inevitable and outlines the steps that can help to avert disaster. Hot bravely takes aim at perhaps the greatest climate threat of all: apathy." —Eric Schlosser, author of Fast Food Nation

"I know what you're thinking: The problem is so massive I can't bear to read any more about it. But you're wrong. Mark Hertsgaard not only makes the workings of climate change clear, vivid and comprehensible but gives us some reasons for hope. Some of the ways to fight or adapt to global warming are simpler—and more unexpected—than you would think, and some of the places where these lessons are being applied you never would have guessed. Hot is a lively, personal, very human piece of reportage about an issue that will ever more be at the very center of our lives." —Adam Hochschild, author of King Leopold's Ghost

"Mark Hertsgaard is the master of a kind of travelogue reporting that lets you understand possibilities and problems in a deep way. But this time, one of the places he's traveling to is the near future, and the news he brings back is equal parts scary, invigorating, and full of challenge. This is an important book." —Bill McKibben, author of Eaarth: Making a Life on a Tough New Planet

"Like the fairy tales that Mark reads to his daughter, Chiara, Hot is full of out-sized challenges and glimmers of hope. In this brilliant postcard from the year 2060, Mark explores a world that will be defined, for better or worse, by decisions made today as we conduct a massive planetary science experiment—one that future generations will grade us on." —Terry Tamminen, Secretary of the California EPA for Governor Arnold Schwarzenegger
Coverage from NPR