We're following all official guidelines to keep ourselves healthy on the job, and as a result, shipping may be delayed.
You will receive an email from our web orders team confirming that your order has been processed.
We thank you for your support and your patience at this challenging time.
Surviving Autocracy (Hardcover)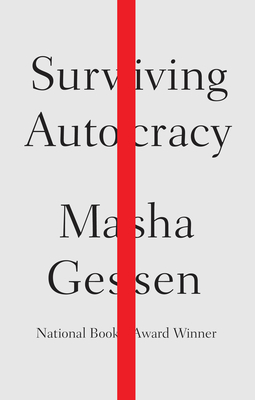 $26.00
Coming Soon—Pre-Order Now
Description
---
"An indispensable voice of and for this moment." –Timothy Snyder, author of On Tyranny

"A handbook for an age in which egomania is morphing into autocracy at warp speed." – Kirkus, STARRED REVIEW

"Brisk, trenchant. . . . an authority lacking in other takedowns of Trump. . . . a must-read." – Publishers Weekly, STARRED REVIEW

"A vital and pressing reminder of what is at stake." – Booklist, STARRED REVIEW

In the run-up to the 2016 election, Masha Gessen stood out from other journalists for the ability to convey the ominous significance of Donald Trump's speech and behavior, unprecedented in a national candidate. Within forty-eight hours of his victory, the essay "Autocracy: Rules for Survival" had gone viral, and Gessen's coverage of his norm-smashing presidency became essential reading for a citizenry struggling to wrap their heads around the unimaginable. Thanks to the special perspective that is the legacy of a Soviet childhood and two decades covering the resurgence of totalitarianism in Russia, Gessen has a sixth sense for signs of autocracy—and the unique cross-cultural fluency to delineate its emergence to Americans. This incisive book provides an indispensable overview of the calamitous trajectory of the past few years. Gessen not only highlights the corrosion of the media, the judiciary, and the cultural norms we hoped would save us but also tells us the story of how a short few years have changed us, from a people who saw ourselves as a nation of immigrants to a populace haggling over a border wall, heirs to a degraded sense of truth, meaning, and possibility. Surviving Autocracy is an inventory of ravages but also a beacon to recovery—or to enduring, and resisting, an ongoing assault.
About the Author
---
Masha Gessen is the author of eleven other books, including the National Book Award-winning The Future Is History: How Totalitarianism Reclaimed Russia and The Man Without a Face: The Unlikely Rise of Vladimir Putin. A staff writer at The New Yorker and the recipient of numerous awards, including Guggenheim and Carnegie fellowships, Gessen teaches at Bard College and lives in New York City.
Praise For…
---
Advance Praise for Surviving Autocracy:

"A reckoning with what has been lost in the past few years and a map forward with our beliefs intact." —Interview Magazine
 
"A blistering appraisal. . . . Surviving Autocracy isn't merely important reading for anyone who plans to cast a vote in that election, it's essential." —Shelf Awareness

"A brisk, trenchant account . . . . Gessen's meticulous research and familiarity with the political and cultural history of post-Soviet Russia lend her arguments an authority lacking in other takedowns of Trump. Liberals looking to make sense of what they're up against in the 2020 elections should consider this a must-read." —Publishers Weekly (starred review)

"A handbook for an age in which egomania is morphing into autocracy at warp speed. . . . Belongs on the shelf alongside Timothy Snyder's On Tyranny and Amy Siskind's The List as a record of how far we have fallen. Gessen is a Suetonius for our time, documenting the death of the old America while holding out slim hope for its restoration." —Kirkus (starred review)

"Gessen's is a clarion voice in the darkness, offering a sobering but sharp-witted analysis of how American society has changed under Trump . . . . [her] rallying cry is a vital and pressing reminder of what's at stake." —Booklist (starred review)

"An indispensable voice of and for this moment." –Timothy Snyder, author of On Tyranny

Praise for The Future Is History:

"Ambitious, timely, insightful, and unsparing." – The Washington Post

"Harrowing, compassionate, and important." – San Francisco Chronicle

"Fascinating and deeply felt."—The New York Times Book Review
 
Praise for The Man Without a Face:

"An unflinching indictment of the most powerful man in Russia." – Wall Street Journal

"Gessen shines a piercing light into every dark corner. … Fascinating, hard-hitting reading." –Foreign Affairs