Politics and Prose will be closed on January 20.
All Strangers Are Kin: Adventures in Arabic and the Arab World (Hardcover)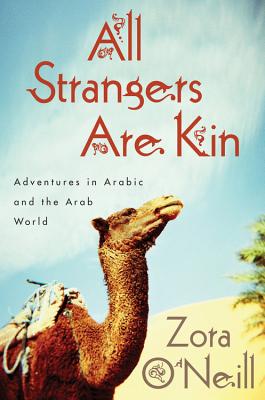 Description
---
"The shaddais the key difference between a pigeon (hamam) and a bathroom (hammam). Be careful, our professor advised, in the first moment of outright humor in class, that you don't ask a waiter, 'Excuse me, where is the pigeon?' — or, conversely, order a roasted toilet."
 
If you've ever studied a foreign language, you know what happens when you first truly and clearly communicate with another person. As Zora O'Neill recalls, you feel like a magician. If that foreign language is Arabic, you just might feel like a wizard.

They say that Arabic takes seven years to learn and a lifetime to master. O'Neill had put in her time. Steeped in grammar tomes and outdated textbooks, she faced an increasing certainty that she was not only failing to master Arabic, but also driving herself crazy. She took a decade-long hiatus, but couldn't shake her fascination with the language or the cultures it had opened up to her. So she decided to jump back in—this time with a new approach.

Join O'Neill for a grand tour through the Middle East. You will laugh with her in Egypt, delight in the stories she passes on from the United Arab Emirates, and find yourself transformed by her experiences in Lebanon and Morocco. She's packed her dictionaries, her unsinkable sense of humor, and her talent for making fast friends of strangers. From quiet, bougainvillea-lined streets to the lively buzz of crowded medinas, from families' homes to local hotspots, she brings a part of the world that is thousands of miles away right to your door.   

A natural storyteller with an eye for the deeply absurd and the deeply human, O'Neill explores the indelible links between culture and communication. A powerful testament to the dynamism of language, All Strangers Are Kin reminds us that learning another tongue leaves you rich with so much more than words.
About the Author
---
ZORA O'NEILL is a freelance travel and food writer. Her work has appeared in the New Yorker, the New York Times and Condé Nast Traveler, and she has written or contributed to more than a dozen titles for Rough Guides, Lonely Planet, and Moon. She lives in Queens, New York.
Praise For…
---
Winner of the Society of American Travel Writers Lowell Thomas Award for Best Travel Book 

"O'Neill's prose is affable and chatty [...] and her approach to her travels is almost recklessly upbeat...Her tale of her 'Year of Speaking Arabic Badly' is a genial and revealing pleasure."—Seattle Times

"In a witty memoir, [O'Neill] chronicles her attempt to learn Arabic in the Middle East. The tome is on Seth Meyers' shelf."—Us Weekly

"Along with exploring fascinating local cultures and customs, [Zora O'Neill] ties in her unique experiences attempting to master Arabic. Like her journey, her memoir is colorful, comical, and compelling."—Bustle, "16 Must-Read Nonfiction Books Due Out In June 2016"

"Zora O'Neill is a keen observer of cultures…and a fine writing stylist."—Judges' Citation from Society of American Travel Writers Lowell Thomas Award for Best Travel Book 

"As [Zora O'Neill] explores local Arabic cultures, she also highlights the often humorous trials and tribulations of learning the difficult language. Along the way, her writing brings to life dynamic settings and captivating people."—Romper, "New Summer Books to Enjoy On Your Warm Weather Adventures" 

"[O'Neill] engages in Arabic with anyone she can, studies colloquial expressions, and chronicles vocabulary, usage, and contradictions. People she interacts with while picnicking, hitchhiking, even at the aftermath of a car accident are opportunities for an exchange. What emerges is the idea of language as a connection, passion, and a reflection of the lives and history of diverse Arab peoples, a view which is lacking in the general news coverage of Middle Eastern conflict. Glimpses of daily life, particularly of Arab women, are intriguing and sometimes unexpected, including the rich assortment of Lebanese cursing while driving. A useful complement to Middle Eastern study and essential for Arabic learners as well as an enjoyable peek into contemporary lives in the region."—Library Journal

"In her engaging, colloquial account, freelance and travel writer O'Neill recounts how, at the age of 39, just after the events of the Arab Spring, she decided to return to Egypt and take up a more vernacular approach to studying Arabic rather than approaching it 'as if it were a dead language'...A valiant chronicle of the author's 'Year of Speaking Arabic Badly.'"—Kirkus Reviews

"O'Neill doesn't teach readers to be fluent in Arabic, but she imparts a more valuable lesson on how (and how not) to learn a language, and the journey is more fascinating than the result."—Publishers Weekly 

"Zora O'Neill is a wonderful writer, a hakawati who can spin a tale with the best of them." – Rabih Alameddine, author of The Hakawati and An Unnecessary Woman

"At a time when politics dominates our view of the Middle East, Zora O'Neill has found a different port of entry:  the language.  An enthusiastic and resourceful student of Arabic, O'Neill captures both the richness of the language and the ways in which it allows an outsider to connect with common people all the way from Morocco to the Persian Gulf." – Peter Hessler, author of Country Driving, Oracle Bones, and others

"Part travelogue, part Bildungsroman, part ethnography, this work is as intricate and nuanced as the Arabic language itself. O'Neill masterfully weaves together vignettes, linguistic musings, and a colorful cast of thousands into an always-thoughtful, often hysterically funny paean to a part of the world about which most Americans remain woefully ignorant." – Suketu Mehta, author of Maximum City: Bombay Lost and Found

"Let Zora O'Neill take you by the hand and lead you on this dazzling journey through the word factory. You will travel through countries and across centuries, meeting professors and poets, revolutionaries, nomads, and nerds. O'Neill's generous storytelling makes the intricacies of Arabic grammar seem fascinating and inexplicably glamorous. And the most unforgettable character you encounter may be the Arabic language itself, which will feel like an old friend by the time you finish this warm and hilarious book." – Annia Ciezadlo, author of Day of Honey

"Wry, witty, and charmingly erudite, this lovely book goes through the looking glass of the Arabic language and emerges with a radiant image of the Arab world." – Diana Abu-Jaber, author of Life Without a Recipe, Crescent, The Language of Baklava, and others

"Zora O'Neill is the perfect travel companion: smart, curious, witty and knowledgeable. In times when the news out of the Middle East is too often grim, she finds warmth and humor. By refusing to tread along the same paths that so many news reporters are confined to, she reveals to us rich new possibilities for understanding--all in a deceptively breezy tone." – Carla Power, author of National Book Award Finalist  If the Oceans Were Ink