The News from the End of the World (Hardcover)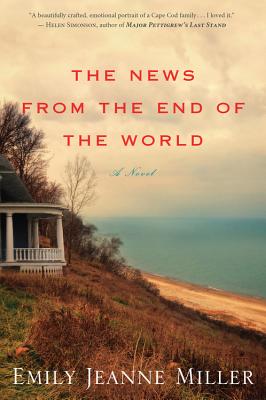 Description
---
Meet the lovable but dysfunctional Lake family over the four days that will make or break them
 
When Vance Lake—broke, jobless, and recently dumped—takes refuge with twin brother Craig back home on Cape Cod, he unwittingly finds himself smack in the middle of a crisis that would test the bonds of even the most cohesive family, let alone the Lakes. Craig is strangely mournful and angry at equal turns. His exasperated wife, Gina, is on the brink of an affair. At the center of it all is seventeen-year-old Amanda: adored niece, rebellious daughter, and stubborn stepdaughter. She's also pregnant.

Told in alternating points of view by each member of this colorful New England clan, and infused with the quiet charm of the Cape in the off-season, The News from the End of the World follows one family into a crucible of pent-up resentments, old and new secrets, and memories long buried. Only by coming to terms with their pasts, both separately and together, do they stand a chance of emerging intact.
About the Author
---
EMILY JEANNE MILLER worked as a journalist for several western newspapers before earning an MS from the Environmental Studies Program at the University of Montana and an MFA from the University of Florida in Gainesville. Her short stories have appeared in the Portland Review and the North American Review, andshe has been a resident at Yaddo and at the Vermont Studio Center. She lives in Washington, D.C.
Praise For…
---
"Is home the answer or the end of the road? A beautifully crafted, emotional portrait of a Cape Cod family whose teenage daughter may not be the only one out of options.  The austere beauty of the off-season landscape seems to bring out hard truths and scour away secrets.  I loved it."
—Helen Simonson, author of Major Pettigrew's Last Stand and The Summer Before the War

"The News from the End of the World is my favorite kind of book, bighearted and full of complicated flawed characters stumbling through love and life, making hard choices, making mistakes, and making the reader fall in love with every one of them. I loved this novel!"
—Ann Hood, author of The Book that Matters Most

"With wonderfully crafted characters and expert pacing, Miller has written the kind of narrative that readers crave: a beautifully written, hard-to put-down story that will stay with readers long after the book has been closed." —BOOKLIST

"Immersive… The unique landscape of Cape Cod in the offseason sets the stage for Miller's poignant, fast-paced family drama. Told in alternating points of view, this gripping novel gets to the heart of the familial trust, independence, and the struggle to overcome the past in order to forge a happier future."—PUBLISHERS WEEKLY
 
"In The News from the End of the World, Emily Jeanne Miller deftly shows how lifetimes can be contained in four days, how memories inhabit a place, and how returning home is always to confront oneself. The characters in this novel consistently surprised me; they find grace in quiet moments, forgiveness when least expected. And it's all so beautifully written that by the end I felt as if I had lived in this town my whole life, and could walk its haunted streets."
—Peter Rock, author of My Abandonment 

"Emily Jeanne Miller's The News from the End of the World recalls Tolstoy's line that 'every unhappy family is unhappy in its own way,' an idea less tragic than simply true; shared pain is what solders us. This is a book about the soldering of one family, about the love between brothers and sisters and fathers and daughters all written in heartbreaking, true and gorgeous prose."
—Lea Carpenter, author of Eleven Days

"Emily Jeanne Miller is a master storyteller. In her brilliant The News from the End of the World, she summons a way of seeing reminiscent of Virginia Woolf: the male characters are as vivid as the female, and as their stories unfold, you cannot look away. This moving and deeply satisfying novel weaves several stories over a New England weekend, without one false note. I will be thinking about the Lake family for a long time."
—Robert Bausch, author of Far as the Eye Can See and A Hole in the Earth