We're following all official guidelines to keep ourselves healthy on the job, and as a result, shipping may be delayed.
You will receive an email from our web orders team confirming that your order has been processed.
We thank you for your support and your patience at this challenging time.
Alchemy and Meggy Swann (Hardcover)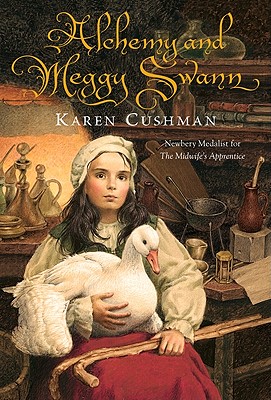 Out of Print in This Format
Description
---
Meggy arrives in London expecting to be welcomed by her father, who sent for her, but he doesn't want her to assist in his laboratory when he sees that not only is she female, she needs two sticks to walk. Sent on trivial errands, she learns to navigate the city, which is earthy and colorful as well as dirty, noisy, and filled with rogues and thieves. Meanwhile she is befriended by the alchemist's former assistant, and when it appears that her father may be arrested and beheaded for practicing magic, together she and her new friend devise a plan to save him. Building strength and street smarts, Meggy goes from helpless to confident and from friendless to surrounded by warmth and love. Elizabethan London has its dark side, but it also has much to offer Meggy Swann.
About the Author
---
Karen Cushman's acclaimed historical novels include Catherine, Called Birdy, a Newbery Honor winner, and The Midwife's Apprentice, which received the Newbery Medal. She lives on Vashon Island in Washington State. Visit her online at karencushman.com and on Twitter @cushmanbooks.
Praise For…
---
* "Writing with admirable economy and a lively ability to re-create the past believably, Cushman creates a memorable portrayal of a troubled, rather mulish girl who begins to use her strong will in positive ways."
—Booklist, starred review

* "Queen Elizabeth I is on the throne. London is a sprawling, chaotic city that teems with all manner of humanity. Meggy has come to London ostensibly to serve her alchemist father, a man she has never met. When he rejects her because she is not male and because she is unable to walk normally, she needs all her pluck and determination to rise above her plight...Cushman has the uncanny ability to take a time and place so remote and make it live. Readers can hear and see and smell it all as if they are right beside Meggy. She employs the syntax and vocabulary of the period so easily that it is understood as if it's the most contemporary modern slang. A gem."
—Kirkus, starred review

* "Cushman adds another intrepid, resourceful, courageous girl to her repertoire in this tale set in 16th-century London...Her courage and confidence grow with each obstacle overcome. Cushman fans who loved Catherine, Called Birdy (1994) and The Midwife's Apprentice (1995, both Clarion) will not be disappointed."
—School Library Journal, starred review

"Cushman's (Catherine, Called Birdy) newest novel has all the elements that have made her earlier books so beloved. With flawless historical prose, Cushman introduces Meggy Swann....There is no unequivocally happy ending for Meggy, but a better life awaits her, and readers will gladly accompany her on the journey."
—Publishers Weekly