Soccermania / Futbolmanía (Bilingual) (Paperback)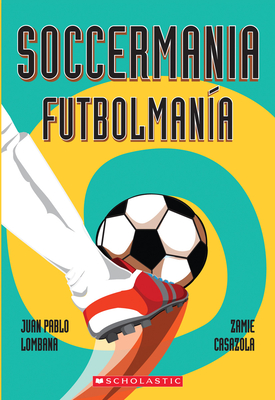 $4.99
In Stock—Click for Locations
Description
---
All you wanted to know about soccer and were afraid to ask!64 pages full of fascinating facts about soccer and its history. From the earliest game played in China 2000 years ago to the richest soccer player of today, from the origin of the word "soccer" to the strangest injuries ever seen in a game, this book rocks with loads of anecdotes and trivia that will make you the best-informed soccer fan ever!Just in time for the 2014 World Cup in Brazil, when the whole world will be suffering from soccermania!64 páginas llenas de datos fascinantes sobre el fútbol y su historia. Desde el juego parecido al fútbol que se jugaba en China hace dos mil años hasta el futbolista mejor pagado de la actualidad, pasando por la edad de oro del fútbol femenino, las lesiones más extrañas jamás sufridas, el origen de la palabra "soccer" y mucho más. Justo a tiempo para la Copa Mundial de Brasil, 2014, ¡cuando el mundo entero se contagia de futbolmanía!
About the Author
---
Juan Pablo Lombana is a writer, editor, and producer. He lives in Brooklyn, NY.

Zamie Casazola was born in Huaral, Peru. He lived in Miami since he was 8 years old and later moved to New York to study Architecture at Pratt Institute. His passion for painting and illustration were first nurtured at a young age by his grandfather, who gave him his first sketchbook and a set of tools to draw with. He now lives in Brooklyn, NY, with his wife and his pet Thug the Pug.