We're following all official guidelines to keep ourselves healthy on the job, and as a result, shipping may be delayed.
You will receive an email from our web orders team confirming that your order has been processed.
We thank you for your support and your patience at this challenging time.
What We Will Become: A Mother, a Son, and a Journey of Transformation (Hardcover)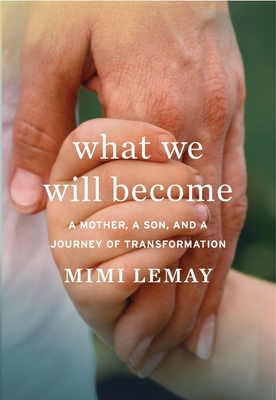 Description
---
A mother's memoir of her transgender child's odyssey, and her journey outside the boundaries of the faith and culture that shaped her.

From the age of two-and-a-half, Jacob, born "Em," adamantly told his family he was a boy. While his mother Mimi struggled to understand and come to terms with the fact that her child may be transgender, she experienced a sense of déjà vu—the journey to uncover the source of her child's inner turmoil unearthed ghosts from Mimi's past and her own struggle to live an authentic life.    
 
Mimi was raised in an ultra-Orthodox Jewish family, every aspect of her life dictated by ancient rules and her role as a woman largely preordained from cradle to grave. As a young woman, Mimi wrestled with the demands of her faith and eventually made the painful decision to leave her religious community and the strict gender roles it upheld.
 
Having risen from the ashes of her former life, Mimi was prepared to help her son forge a new one — at a time when there was little consensus on how best to help young transgender children. Dual narratives of faith and motherhood weave together to form a heartfelt portrait of an unforgettable family. Brimming with love and courage, What We Will Become is a powerful testament to how painful events from the past can be redeemed to give us hope for the future.
 
About the Author
---
MIMI LEMAY is an international advocate for transgender youth and the author of the viral essay "A Letter to My Son Jacob on His 5th Birthday." Lemay and her family meet regularly with legislators, business leaders, educators, and clergy to share their vision of a more equitable world. She is a member of the Parents for Transgender Equality National Council at Human Rights Campaign and holds a master's in law and diplomacy from the Fletcher School at Tufts University.
Praise For…
---
"Lemay's writing is superb—the family stories at once heartbreaking and inspiring. VERDICT This is a vital and engrossing book about how to live an authentic life."—Library Journal, STARRED

"Engrossing and compassionate…This fascinating, heart-wrenching memoir offers invaluable insights into issues of gender identity."—Publishers Weekly, STARRED review

"A moving memoir, Lemay's is an important book because there is virtually nothing else available about transgender children as young as Jacob. Though most readers will view Jacob as the book's main character, his older, precocious sister says that love and kindness are. And who can argue with that?"—Booklist, STARRED

"Compassionate, wise, and sensitively told, Lemay's narrative offers moving portraits of a mother and family willing to embrace radical change in order to unconditionally support their child…An intimate and clearly heartfelt memoir." —Kirkus

"Weaving the story of her own early struggles with faith and her attempts as a mother to decipher her son's needs, What We Will Become takes us on an unforgettable journey whose conclusion is both haunting and redemptive. With her lyrical and intimate prose, Mimi Lemay makes the case that faith can, and should, go hand-in-hand with acceptance as she provides a compelling vision of a world where every individual can become who they are meant to be."—Sarah McBride, author of Tomorrow Will Be Different: Love, Loss, and the Fight for Trans Equality
 
"With precision, honesty and grace, Mimi Lemay brings us on a journey to an uncertain world with her son, Jacob, and their entire family. Along the way, she reminds us that exclusion and injustice are no match for a mother's devotion. What We Will Become is more than one family's story. It is a striking call to action for a country where every child is worthy, believed in, and loved."—Congressman Joe Kennedy III
 
"What We Will Become is a triumphant, introspective story about being and becoming It beautifully reminds us of the challenges, but also the necessity, of unconditional love, both for ourselves and for those we care about. It gives me hope for the future of transgender children."—Gavin Grimm, Transgender Activist