Call Me Zebra (Hardcover)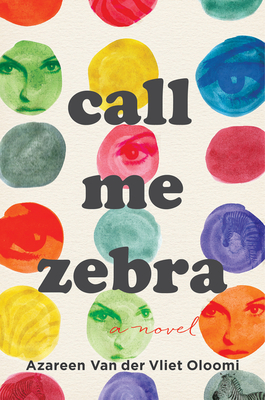 $24.00
Special Order—Subject to Availability
Description
---
Winner of the PEN/Faulkner Award for Fiction

"Hearken ye fellow misfits, migrants, outcasts, squint-eyed bibliophiles, library-haunters and book stall-stalkers: Here is a novel for you."—Wall Street Journal

"A tragicomic picaresque whose fervid logic and cerebral whimsy recall the work of Bolaño and Borges." —New York Times Book Review

Finalist for the PEN/Faulkner Award for Fiction * Longlisted for the PEN/Open Book Award * An Amazon Best Book of the Year * A Publishers Weekly Bestseller

Named a Best Book by: Entertainment Weekly, Harper's Bazaar, Boston Globe, Fodor's, Fast Company, Refinery29,Nylon, Los Angeles Review of Books, Book Riot, The Millions, Electric Literature, Bitch, Hello Giggles, Literary Hub, Shondaland, Bustle, Brit & Co., Vol. 1 Brooklyn,Read It Forward,Entropy Magazine,Chicago Review of Books, iBooks and Publishers Weekly

From an award-winning young author, a novel following a feisty heroine's quest to reclaim her past through the power of literature—even as she navigates the murkier mysteries of love.
 
Zebra is the last in a line of anarchists, atheists, and autodidacts. When war came, her family didn't fight; they took refuge in books. Now alone and in exile, Zebra leaves New York for Barcelona, retracing the journey she and her father made from Iran to the United States years ago.
 
Books are Zebra's only companions—until she meets Ludo. Their connection is magnetic; their time together fraught. Zebra overwhelms him with her complex literary theories, her concern with death, and her obsession with history. He thinks she's unhinged; she thinks he's pedantic. Neither are wrong; neither can let the other go. They push and pull their way across the Mediterranean, wondering with each turn if their love, or lust, can free Zebra from her past.
 
An adventure tale, a love story, and a paean to the power of language and literature starring a heroine as quirky as Don Quixote, as introspective as Virginia Woolf, as whip-smart as Miranda July, and as spirited as Frances Ha, Call Me Zebra will establish Van der Vliet Oloomi as an author "on the verge of developing a whole new literature movement" (Bustle).
About the Author
---
AZAREEN VAN DER VLIET OLOOMI is the author of the novels Savage Tongues, Call Me Zebra, and Fra Keeler and the director of the MFA Program in Creative Writing at the University of Notre Dame. She is a National Book Foundation "5 Under 35" honoree and the winner of a 2019 PEN/Faulkner Award, a John Gardner Award, and a 2015 Whiting Award, as well as the recipient of a Fulbright Fellowship and residency fellowships from MacDowell and Ledig House. Her work has appeared in the New York Times, the Paris Review, Guernica, Granta, Bomb, and elsewhere. She lives in Chicago and is the founder of Literatures of Annihilation, Exile and Resistance, a lecture series on the global Middle East that focuses on literature shaped by colonialism, military domination, and state-sanctioned violence.
 
Praise For…
---
Praise for Call Me Zebra
Winner of the PEN/Faulkner Award for Fiction
Longlisted for the PEN/Open Book Award
An Amazon Best Book of the Year
A Publishers Weekly Bestseller

Named a Best Book by:
Entertainment Weekly, Harper's Bazaar, Boston Globe, Fodor's, Fast Company, Refinery29,Nylon, Book Riot, The Millions, Electric Literature, Bitch, Hello Giggles, Literary Hub, Shondaland, Bustle, Vol. 1 Brooklyn,Read It Forward,Entropy Magazine,Chicago Review of Books, iBooks and Publishers Weekly

"Ferociously intelligent...With intricacy and humor, Van der Vliet Oloomi relays Zebra's brainy, benighted struggles as a tragicomic picaresque whose fervid logic and cerebral whimsy recall the work of Bolaño and Borges."—The New York Times Book Review

"Once in a while a singular, adventurous and intellectually humorous voice appears that takes us on an inescapable journey. Azareen Van der Vliet Oloomi's Call Me Zebra is a library within a library, a Borges-esque labyrinth of references from all cultures and all walks of life. In today's visual Netflix world, Ms. Van der Vliet Oloomi's novel performs at the highest of levels in accomplishing only what the written novel can show us." —PEN/Faulkner Award for Fiction citation, from judges Joy Williams, Percival Everett, and Ernesto Quiñonez

"Splendidly eccentric...Hearken ye fellow misfits, migrants, outcasts, squint-eyed bibliophiles, library-haunters and book stall-stalkers: Here is a novel for you." —Wall Street Journal

"If you don't know this name yet, you should: Van der Vliet Oloomi, a National Book Award '5 Under 35' honoree, returns with this absurdist, unwieldy, and bracingly intelligent story." —Entertainment Weekly

"A sexy, complicated affair...geopolitically savvy." —Elle

"In a story that might otherwise be self-serious, Van der Vliet Oloomi resists the standard redemption arc, infusing her protagonist with a darkly comic neuroticism."—The New Yorker

"An offbeat, deadpan funny account of the travels of a young Iranian woman." —Washington Post

"Acerbic wit and a love of literature color this picaresque novel...By turns, hilarious and poignant, painting a magnetic portrait of a young woman you can't help but want to know more about." —Harper's Bazaar

"Hop on board with anarchist, atheist, and autodidact Zebra as she bounds on her hilarious and frenetic adventure through literature and across the globe, always in search of deeper connection." —Fodor's

"Not many authors are compared to Borges, Cervantes, and Kathy Acker all in one breath, but that is exactly what we're dealing with here: Azareen Van der Vliet Oloomi is a twisted, twisty genius, whose latest novel is a wild, trippy ride across countries…[Zebra] is in possession of an inimitable…voice, but it's all the better to help her—and us—navigate the chaos of this collapsing world." —Nylon

"What Maggie Nelson's The Argonauts did for gender and sexuality, Call Me Zebra does for the experience of exile, deftly threading the narrative with theory while also using theory to pull the reader in. Though Call Me Zebra happens to be fiction, both books are stuffed with complex ideas made irresistible and lyric…Van der Vliet Oloomi sets herself the tall task of writing a precocious narrator, a self-proclaimed 'expert connoisseur of literature,' a narrative path that's littered with prospective pitfalls. In less capable hands, this could easily be annoying or unconvincing, but Zebra is unvaryingly brilliant and deadpan funny…One of the greatest components of Call Me Zebra is how funny it is…Call Me Zebra also features quietly devastating moments when Zebra's emotional defenses fall away, when we are reminded that because of tyranny, war, and poverty, she has been left entirely alone to process her family's eradication from the earth… Zebra is the smartest narrator you will encounter this year." —Los Angeles Review of Books

"[Van der Vliet Oloomi] is one of a new breed of erudite, conceptually ambitious authors emerging in an industry long dominated by accessible, character-driven realism…In Call Me Zebra [she] comes into her own…channel[ing] Friedrich Nietzsche, Kathy Acker, Maurice Blanchot and dozens more past masters to conjure a literary landscape of exile where the great bodies of work come and go...Wildly innovative...The all-in author of Zebra engages her mind, body, and soul."—San Francisco Chronicle 

"Bibi Abbas Abbas Hosseini, the protagonist of Call Me Zebra, is probably more similar to Don Quixote and Ignatius Reilly of A Confederacy of Dunces than she is to you and I. Partly, that's because she stems from a family that prizes knowledge of literature above all other practical skills. And it's partly because her life is a picaresque adventure on par with some of the greats in literature, weaving in dark family tragedy (she's orphaned by the time she's 23) with international globetrotting and grand acts of romantic pursuit. Call Me Zebra is a novel in the best sense of the word. It's filtered entirely through an idiosyncratic mind, who thinks in sentences that are sharp and smart and utterly ridiculous." —Refinery29

"This is a miss your stop on the subway and ignore your to-do list kind of book." —The Millions

"It's difficult to pull off both depth and wit, but Azareen Van der Vliet Oloomi masters both in Call Me Zebra." —Bitch

"One of the most original stories we've read in a long time...A delight for the true bibliophile." —Hello Giggles

"Brilliant and heart-wrenching...In a lyric, funny, and irresistible manner, Azareen Van der Vliet Oloomi distills the ideas of Friedrich Nietzsche, Walter Benjamin, Rainer Maria Rilke, Miguel de Cervantes, and an army of other great writers and thinkers through the mind and experience of Zebra, a strong-willed exile from Iran fighting to make sense of her family history of displacement and anguish." —Literary Hub

"For every human whose first love in life will always be literature...A beautiful depiction of first love, legacy, and our desire to feel connected to where (and who) we come from." —Shondaland

"Oloomi wears her weighty intellectual bona fides lightly...Filled with literature, art and sex, Call Me Zebra is rambling and picaresque as quirky and funny as its rambunctious narrator. Its many digressions into philosophy and history are not obstacles--they are stepping-stones...With a healthy dose of literary allusions and excerpts, Call Me Zebra is a vibrant novel of a young woman's odyssey into her family's legacy of exile and erudition."—Shelf Awareness

"A unique book with a unique young voice—adventurous, emotional, absurd, and very bookish." —Omnivoracious

"A love letter to literature, as well as a thoughtful meditation on family and love." —Read It Forward

"The opening sentence of Gabriel García Márquez's One Hundred Years of Solitude might be my favorite first line of all time. But Azareen Van der Vliet Oloomi's second novel, Call Me Zebra, gives Márquez a run for his money." —Chicago Review of Books

"A darkly, funny novel…[and] bombastic homage to the metacriticism of Borges, the Romantic absurdity of Cervantes, and the punk-rock autofictions of Kathy Acker…[Call Me Zebra] is a brilliant, demented, and bizarro book that demands and rewards all the attention a reader might dare to give it."—Kirkus Reviews (Starred Review)

"Oloomi's rich and delightful novel… crackles throughout with wit and absurdity… [Call Me Zebra] is a sharp and genuinely fun picaresque, employing humor and poignancy side-by-side to tell an original and memorable story."—Publishers Weekly (Starred Review)

"This fierce meditation, a heady review of literature and philosophy as well as a love story, is a tour de force from the author of Fra Keeler that many will read and reread."—Library Journal

"An arresting exploration of grief alongside a powder keg of a romance."—Booklist

"Zebra is exile as education, history as passion, life as literature, and literature as death."
—Tom McCarthy, author of the Man Booker Prize-finalist Satin Island and Remainder

"A penniless orphaned refugee, Zebra knows she can count on two things: literature and death. She builds a fortress out of both, surviving on fury, on memories and manifestos, until life begins to break through. Can Zebra handle life? Can literature handle Zebra? Reader, go find out! Call Me Zebra is like nothing else I've read, geo-political and bookish and sexy, quite refreshingly nuts and yet a ripping good read. Also, there's a stolen bird! I'd say I couldn't put it down, but Zebra would never approve a cliche, so I'll pay it a compliment she might actually accept: this book metabolized me."
—Danielle Dutton, author of Margaret the First

"There's something really radical about this epic and ecstatic quest. It's in the tradition of Cervantes' ingenious nobleman, but also deeply in conversation with Borges's Pierre Menard and Kathy Acker's own Don Quixote. The young female narrator of Call Me Zebra luxuriates in the tradition of Enrique Vila-Matas's literary sickness, or Kafka writing that he is made entirely of literature. A hilarious picaresque, perverse and voracious."
—Kate Zambreno, author of Heroines and Green Girl

"Call Me Zebra is a book about everything—exile, love, loss, literary theory, the insouciance of time, the history of Iran, funerary rites, and the idiosyncrasies and intricacies of the mind. In the main character, Zebra, we receive 'a scribe of the future,' one who can synthesize great swathes of literature, history, and politics to produce insights that transcend categorization, insights that illuminate existence, its ascending flights and horrors. Azareen Van der Vliet Oloomi, the author of Call Me Zebra, has written a marvelous book that is at once contemporary, in conversation with fiction writers such as Valeria Luiselli and Rachel Kushner, and simultaneously reaches back to the eccentric talkers and characters in the work of Vladimir Nabokov and Italo Svevo. Call Me Zebra risks the grand, the large, the sublime as a means of answering the questions we speak only to ourselves when we think no one is listening."
—Roger Reeves, author of King Me

"This novel is not about a zebra but about a whole sharp, amazing, malicious and wicked zoo. Please enjoy responsibly."
—Quim Monzó, author of A Thousand Morons  and supporting character in the novel Call Me Zebra