Good Riddance (Hardcover)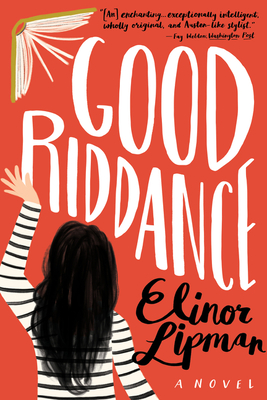 Description
---
The delightful new romantic comedy from Elinor Lipman, in which one woman's trash becomes another woman's treasure, with deliriously entertaining results.

Daphne Maritch doesn't quite know what to make of the heavily annotated high school yearbook she inherits from her mother, who held this relic dear. Too dear. The late June Winter Maritch was the teacher to whom the class of '68 had dedicated its yearbook, and in turn she went on to attend every reunion, scribbling notes and observations after each one—not always charitably—and noting who overstepped boundaries of many kinds.

In a fit of decluttering (the yearbook did not, Daphne concluded, "spark joy"), she discards it when she moves to a small New York City apartment. But when it's found in the recycling bin by a busybody neighbor/documentary filmmaker, the yearbook's mysteries—not to mention her own family's—take on a whole new urgency, and Daphne finds herself entangled in a series of events both poignant and absurd. 
 
Good Riddance is a pitch-perfect, whip-smart new novel from an "enchanting, infinitely witty yet serious, exceptionally intelligent, wholly original, and Austen-like stylist" (Washington Post). 
About the Author
---
ELINOR LIPMAN is the award-winning author of eleven novels, including The View from Penthouse B and The Inn at Lake Devine; one essay collection, I Can't Complain; and Tweet Land of Liberty: Irreverent Rhymes from the Political Circus. She lives in New York City.
Praise For…
---
A LibraryReads Pick
Included in the Publishers Lunch "Publishing Preview"—Fiction, Notables
"A clever romantic comedy from a pro . . . The rollicking plot ultimately leads to romance, revealing this witty story's warm and fuzzy heart."
—People
"The ultimate V-Day binge read."
—Cosmopolitan
"The question of who gets to tell one's own story lies at the heart of Lipman's
smart, sassy, and satisfying rom-com
. . . Luckily for fans of contemporary women's fiction, the answer is Lipman as she once again delivers
a tightly woven, lightly rendered, but insightfully important novel
of the pitfalls to be avoided and embraced on one's path to self-discovery."
—Booklist
"Lipman's satisfying latest is a worthy addition to her long lineup of
smart, witty
novels. . . a 
charming
romantic comedy . . . with a
stellar
cast of supporting characters [. . . ] and
intelligent and lyrical prose
. . .  A
delightful treat
readers will want to savor."
—Publishers Weekly
"Fans of Lipman will cheer for a new novel in her signature style:
funny, warm, sharp, smart, and full of love for family
, no matter how flawed."
—Library Journal
"Au courant elements . . . add a fresh twist to the proceedings. Lipman's narrative brio keeps things moving at a good clip."
—Kirkus Reviews
"The
sharp, smart wit
of Elinor Lipman is a treasure and
Good Riddance
more than delivers with
laugh out loud
dialogue, wise social commentary, and thoughtful observations about love."
—Jill McCorkle, author of Life After Life 
"Elinor Lipman always delights with her romantic comedies, and
Good Riddance
 is Lipman at her best: funny, smart, and utterly charming."
—PopSugar
"You'll adore this sweet and funny new novel." 
—Parade.com
"[A] bonbon of a book…
Good Riddance
makes for lively reading, and it's not hard to imagine it as a rom-com…Lipman's audience is in for a delectable treat."
—BookReporter.com