Crow Smarts: Inside the Brain of the World's Brightest Bird (Scientists in the Field Series) (Hardcover)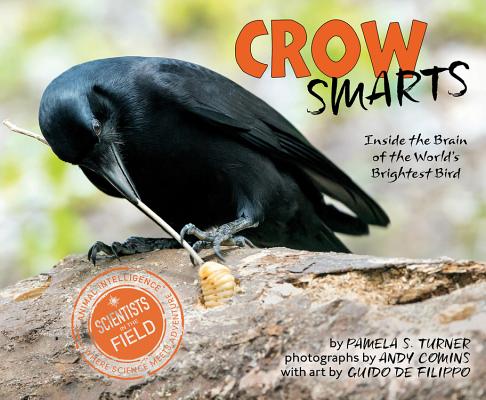 $18.99
In Stock—Click for Locations
Description
---
One of the biggest differences between humans and animals is the ability to understand the idea of "If I do X, Y might happen." New Caledonian crows seem to possess the intelligence to understand this "causal" concept. Why do crows have this ability? What does the crow know and what does it tell us about brain size, the evolution of intelligence, and just who is the smartest creature on the planet? In the latest addition to the Scientists in the Field series, the creators of The Frog Scientist take us to a beautiful Pacific island, where a lively cast of both crows and scientists is waiting to amuse and enlighten us.
 
About the Author
---
Pamela S. Turner
has a master's degree in public health from the University of California, Berkeley, and a special interest in microbiology and epidemiology. Her articles for children and adults have appeared in numerous scientific publications. Her books include 
Hachiko: The True Story of a Loyal Dog
,
Gorilla Doctors, The Frog Scientist, Dolphins of Shark Bay,
and
Project Seahorse. 
She lives in California.
www.pamelasturner.com
Andy Comins
is a California photographer who specializes in portraiture and children's photography. His books include
The Frog Scientist
and 
Stronger Than Steel
.
www.andycomins.com
Instagram: @amcomins
Praise For…
---
Horn Book Fanfare: Best Books of 2016
Nonfiction Detectives: Best of 2016
Nerdy Book Club Nerdies 2016 Longford Nonfiction

* "Turner's friendly, sometimes joking tone effortlessly moves from amusing accounts of crow antics to sophisticated explanations of crow and human evolution. Comins's arresting photographs of the sleek black birds in the island landscapes of New Caledonia highlight their personalities and intelligence."
—Horn Book, STARRED review

* "Required reading for anyone who believes that we are the only, or even the most, sapient species on the planet. Highly recommended for STEM and animal collections."
—School Library Journal, STARRED review

"...[Crow Smarts] also pulls together a wide variety of research on crow behaviors and weaves it seamlessly into the narrative. Detailed sidebars and lively photographs of shiny, bright-eyed crows break up the text while adding interest, and illustrated explanations of crow behavior are illuminating."
—Bulletin

"With an approachable writing style and photos of crows festooning almost every page, this engaging volume with attract budding scientists, and the lively descriptions not only of the crows but of the scientists at work will give students plenty to ponder."
—Booklist