We're following all official guidelines to keep ourselves healthy on the job, and as a result, shipping may be delayed.
You will receive an email from our web orders team confirming that your order has been processed.
We thank you for your support and your patience at this challenging time.
The Lion Seeker (Paperback)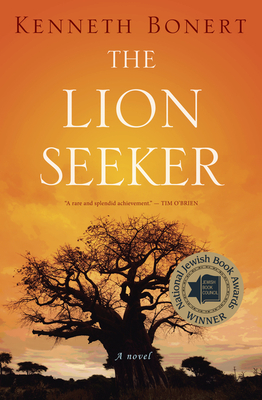 $14.95
Special Order—Subject to Availability
November 2013 Indie Next List
---
"This is a perfect book, and given that it is Bonert's debut novel, it's even more astounding. He uses South African apartheid, where blacks are treated like the Jews of Eastern Europe, to convey the drama of a Lithuanian family's emigration to escape the very debasement that they then perpetrate on those who live in their new community. It's a complicated story well told, emotional, fraught with angst, but also with some of the most memorable characters in recent fictional history."
— Gayle Shanks, Changing Hands Bookstore, Tempe, AZ
Description
---
"A taut, visceral account of a young Jewish boy's African life . . . offering at times page-turning thrills and at others a painful meditation on destiny and volition." — NPR, All Things Considered

A powerful family saga, The Lion Seeker is a thrilling ride through the life of Isaac Helger, from redheaded hooligan on the streets of Johannesburg to striving young man on the make. Growing up in the shadow of World War II, Isaac is caught between his mother's urgent ambition to bring her sisters to safety out of the old world and his own desire for the freedoms of the new. But soon his mother's carefully guarded secret takes them to the diamond mines, where mysteries are unveiled in the desert rocks and Isaac begins to learn the bittersweet reality of success bought at truly any cost.

"[A] master storyteller . . . Bonert's zest for description, his attention to social nuances, and his eagerness to tell a large story in a large way . . . [creates] a big, richly detailed novel." — Tablet Magazine

"Raw and ambitious." — Moment

"Astonishingly mature, admirably incautious . . . It's visually and thematically sweeping, rich with diverse personalities, packed with tender waves and roiling crests of love, loss, hope, hatred." — National Post (Canada)

"Stunning." — Jewish Daily Forward

"Powerful and thoroughly engrossing . . . To read it is to be reminded how great a great novel can be." — David Bezmozgis, author of The Free World
About the Author
---
KENNETH BONERT's first novel, The Lion Seeker, won the National Jewish Book Award, the Edward Lewis Wallant Award, and the Canadian Jewish Book Award. Bonert was also a finalist for the Sami Rohr Prize and the Governor General's Literary Award. He was born in South Africa and now lives in Toronto, Ontario. 
Praise For…
---
"A taut, visceral account of a young Jewish boy's African life… offering at times page-turning thrills and at others a painful meditation on destiny and volition."
—NPR, All Things Considered

"[A] master storyteller... Bonert's zest for description, his attention to social nuances, and his eagerness to tell a large story in a large way... [creates] a big, richly detailed novel."
—Tablet Magazine

"[A] suspenseful, entertaining, and thought provoking epic. . . Recommended to Jewish and philo-Semitic readers who enjoy family sagas, coming of age tales, long epic novels, and learning about a Jewish community with whom they might not be well acquainted."
—New York Journal of Books

"Simply a stunning piece of work. . . If The Lion Seeker wasn't the best Jewish novel I'd read in 2013, it was damn close."
—Jewish Daily Forward

"What a rare and splendid achievement this novel is—emotionally gripping, intellectually challenging, deftly plotted, skillfully composed, and vibrantly alive with the images and sounds and textures and human flurry of another time and place. I was dazzled. And I was moved."
—Tim O'Brien

"[Isaac's] is a story of fighting and deciding what's worth fighting for, of cultivating a strength that doesn't erase empathy. . . The pages turn quickly, with suspenseful prose and colorful vernacular dialogue that could easily be used in a blockbuster film."
—Publishers Weekly

"[The Lion Seeker] will grab readers everywhere with the story of the struggling refugees in a new country, the horror they escaped from, and the guilt about those left behind, with secrets not revealed until the very end. . . The immigrant family struggle comes across as universal, whether concerning radicals or the ultra-Orthodox. . . A great choice for book-group discussion."
—Booklist

"South African-born Canadian writer Bonert serves up a latter-day Exodus in this debut novel."
—Kirkus Reviews

"Raw and ambitious. . . The compulsive energy and passion of [Bonert's] prose is well matched to the feverish longings of his deeply flawed protagonist, and the book gains speed and urgency as it steams along."
—Moment Magazine
"Here is the South African novel I've been waiting for. Kenneth Bonert tells it true, not safe. His protagonist is worthy of Isaac Bashevis Singer, and the South Africa he gives us vivid, raw, dangerous, shot through with moral complexity."
—Lynn Freed, author of House of Women and The Servants' Quarters

"The Lion Seeker is a powerful and thoroughly engrossing novel, grand in scope, richly imagined, full of dramatic incident, and crafted in a prose that is by turns roughhewn and lyrical. To read it is to be reminded how great a great novel can be."
—David Bezmozgis, author of The Free World and Natasha: And Other Stories

"A remarkably assured debut, The Lion Seeker is a riveting, lyrical, and profound journey towards the intersection of private lives and public destinies. Kenneth Bonert has all the makings of a major novelist."
—Charles Foran, author of Mordecai: The Life and Times

"The Lion Seeker is no-holds-barred, bare-knuckle-fight raw. A historical novel that feels desperately current; a Rosenburg and Juliet love story shorn of all sentiment; a stock-taking of human brutality and its flip side, our capacity to reach beyond our limitations and be better, all rendered in prose so expert, so fine honed that it belies the adjective 'debut.' It joins classics like J.M. Coetzee's Disgrace and Rian Malan's My Traitor's Heart in the canon, and renders the South African experience universal. A first-round knock-out for Kenneth Bonert."
—Richard Poplak, author of Ja No Man: Growing Up White in Apartheid-Era South Africa
"This powerful novel begins with a mystery that propels its characters through their difficult lives in prewar South Africa and haunts their actions until a dramatic and searing climax based on the Holocaust in Lithuania. The Lion Seeker is vivid and illuminating, astonishing in its range and toughness, and simultaneously an expression of love and regret for all that has been lost."
—Antanas Sileika, author of Underground and Woman in Bronze and Director of the Humber School for Writers

Praise from abroad for The Lion Seeker:

"An emotional tour de force that plumbs the depths of human hope, fear, guilt, and rage, and bears all the hallmarks of a masterwork."
—Ballast (Canada)

"A titanic novel. . . An epic, a vast story about a rarefied subject: the community of Ashkenazi Jews who emigrated to South Africa before World War II. . . Mazel tov, Kenneth Bonert, you have written a blockbuster of a book."
—Toronto Star (Canada)

"Bonert's prose is sharp and masterful, clipping along at a breathless pace while still managing to wow us with imagery, clever turns of phrase and believable dialogue peppered with several languages."
—Globe and Mail (Canada)

"The Lion Seeker is astonishingly mature, admirably incautious. It moves with the sleight-of-hand of the born artist, ramping up for naked tugs at the heart. . . It's visually and thematically sweeping, rich with diverse personalities, packed with tender waves and roiling crests of love, loss, hope, hatred. It casts its bit players (even a final-act dog) as deftly as its stars. . . This novel, quite apart from what it might become, remains completely and thrillingly itself."
—National Post (Canada)

"If not for the setting-South Africa in the 1930s and '40s-the novel's hapless protagonist could have been plucked from the doom-laden pages of Thomas Hardy. . . The Lion Seeker, like its 19th-century literary forebears, is larded with enough plot twists, reversals of fortune, and revelations of family secrets to keep many readers engrossed."
—Quill & Quire (Canada)