Outrages: Sex, Censorship, and the Criminalization of Love (Hardcover)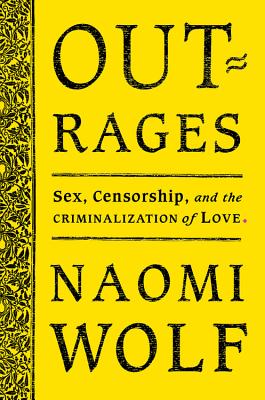 $30.00
Not Yet Published—Pre-Order Now
Description
---
The dramatic, buried history of how nineteenth-century laws gave the state new powers to criminalize love between men—and how the movement for gay rights rose from the ashes
   In 1857, Britain invented civil divorce, new obscenity laws, and new ways to criminalize love between men.  New York Times best-selling author Naomi Wolf's Outrages is the story, brilliantly told, of how this perfect storm helped to originate the kinds of damaging homophobia and censorship we live with today.
   Wolf paints the ways these laws affected a bohemian group of sexual dissidents, including the English critic John Addington Symonds and American poet Walt Whitman.  Symonds fell in love with Whitman's homoerotic voice in Leaves of Grass—a dangerous love, as dire prison terms became penalties for such love, even if only expressed on the page.
   Powerfully, Wolf recounts how a dying Symonds helped to write the book on "sexual inversion" that created our understanding of homosexuality.  And she shines a light on his secret memoir:  a half-hidden text that is rightfully understood as one of the first gay rights manifestos in the West.
About the Author
---
NAOMI WOLF is the author most recently of Vagina: A New Biography; Give Me Liberty: A Handbook for American Revolutionaries; and The End of America: A Letter of Warning to a Young Patriot, all New York Times bestsellers. Wolf is also the author of the landmark international bestseller The Beauty Myth, which challenged the cosmetics industry and the marketing of unrealistic standards of beauty, launching a new wave of feminism in the early 1990s. The New York Times called it one of the most important books of the 20th century. A graduate of Yale and a former Rhodes Scholar, Wolf writes for publications that include the New Republic, the Wall Street Journal, Glamour, the Guardian, the Washington Post,  the New York Times, and Huffington Post.
Praise For…
---
"A remarkable and moving work of creative scholarship"—Larry Kramer, author of Faggots and The Normal Heart
 
"With precision and sensitivity, Naomi Wolf traces how the state came to police the private sphere; she brings into the light the lives of those whose resistance to this brutality was a beacon for the future.  Outrages is a remarkable, revelatory book."—Erica Wagner, author of Chief Engineer:  The Man Who Built the Brooklyn Bridge
 
"In Outrages, Naomi Wolf reveals a largely forgotten history of how science, law, and culture have intersected to suppress and silence sexual expression. As expanding acceptance threatens to erase a history of LGBTQ marginalization and struggle—and as we descend into authoritarian rule across so many countries—this is an important, powerful tale."—Shahid Buttar, marriage equality activist and attorney

"Outrages is a fascinating history book with a cast of characters and an epic sweep that make it read like a novel Charles Dickens could have written, if he had ever written one about queers." —New York Journal of Books

"[This] remarkable book is a tour de force of research and insight into Symonds' life and work and the related evolution of public and state attitudes toward homosexuality. [Wolf's] is an essential contribution not only to queer history but also to studies of nineteenth-century culture. It is not to be missed."—Booklist, STARRED review

"Wolf provides engrossing accounts of Whitman and Symonds, yet her story is even more compelling in its wider portrait of the societies and institutions in America as well as England that served to shape the fears and prejudices that have lingered into our modern age. An absorbing and thoughtfully researched must-read for anyone interested in the history of censorship and issues relating to gay male sexuality."—Kirkus

"This ambitious literary, biographical, and historical treatise from Wolf (The Beauty Myth) examines both 19th-century Britain's persecution of gay men and the work and life of the relatively obscure gay writer John Addington Symonds (1840–1893)...a fascinating look at this period and these writers."—Publishers Weekly

"This book harnesses the electric power of Walt Whitman's Leaves of Grass, the righteous energy of first-wave feminism and the terror of criminalized identities, in a style accessible to general readers. As the fight for LGBTQ rights continues, this book is as relevant as it is compelling." --Shelf Awareness

"Outrages is a paean to books, libraries and bringing history alive for a new audience."—Sydney Morning Herald