Emma's Poem: The Voice of the Statue of Liberty (Paperback)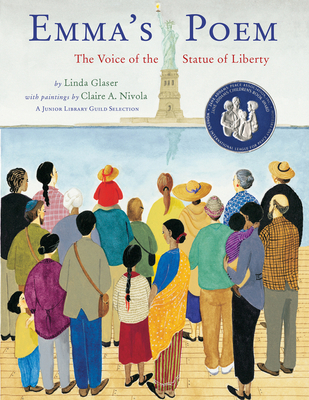 $7.99
Not On Our Shelves—Ships in 1-5 Days
Description
---
A celebration of our nation's melting pot, this beautifully illustrated origin story of the Statue of Liberty honors a poet who has advocated for the voiceless.

"Give me your tired, your poor
Your huddled masses yearning to breathe free . . . "
In 1883, Emma Lazarus, deeply moved by an influx of immigrants from eastern Europe, wrote a sonnet that gave a voice to the Statue of Liberty.  Originally a gift from France to celebrate our shared national struggles for liberty, the statue, thanks to Emma's poem, came to define us as a nation that welcomes immigrants. The text of that now famous poem, "The New Colossus," appears in this free-verse biography, illustrated in an exquisite folk art style. 
The New Colossus by Emma Lazarus has been selected as a Common Core Text Exemplar (Grades 4-5, Poetry)
About the Author
---
Linda Glaser's grandparents emigrated from eastern Europe in the late 1800's to New York City, where they first saw the huge statue.Also the author of the immigrant novel, BRIDGE TO AMERICA, Ms. Glaser lives in Duluth, MN.

Ms. Nivola has written and illustrated several children's books, including Planting the Trees of Kenya. She lives with her family in Newton, Massachusetts.

Praise For…
---
Jane Addams Children's Book Award 2011
Junior Library Guild Selection
"Nivola's rectilinear compositions and poses, her generalized figures, and her bright, limited palette recall Barbara Cooney's period scenes, capturing New York City's opulent upper crust and the indigent yet dignified newcomers with equal skill. An excellent introduction to both Lady Liberty and the poem."--Horn Book, starred review 
"The art and words are moving in this picture book, which pairs free verse with detailed, fullpage paintings in watercolor, ink, and gouache to tell the history behind Lazarus' famous inscription on the Statue of Liberty."--Booklist
"A gentle tribute to Emma Lazarus, very much in the style of Barbara Cooney's Eleanor (Viking, 1996)...The pictures, with their slight folk-art feel, capture both the time and action of the story, while the text illuminates the woman. An author's note and the full text of the poem complete the book. A worthwhile addition for most collections."--School Library Journal
"Nivola's watercolor-and-gouache paintings are rich in color and detail, showing the elegant streets and homes of 19th-century New York City as well as its settlement houses. Line, pattern and a sense of place give young readers a rich vision of the "golden door" by which "your tired, your poor, / Your huddled masses yearning to breathe free" came to this country. Nicely done, enabling even young children to see how the poem and the statue came together."--Kirkus