Sea Wife: A novel (Hardcover)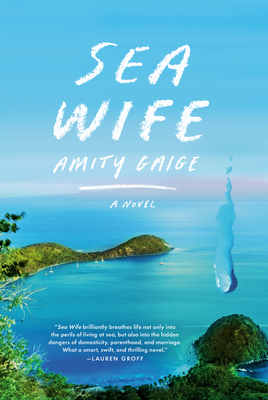 $26.95
Coming Soon—Pre-Order Now
Description
---
"Sea Wife is a gripping tale of survival at sea—but that's just the beginning.  Amity Gaige also manages, before she's done, to probe the underpinnings of romantic love, marriage, literary ambition, political inclinations in the Trump age, parenthood, and finally, the nature of survival itself in our broken world.  Gaige is thrillingly talented, and her novel enchants."
—Jennifer Egan

"Taut as a thriller, emotionally precise yet threaded with lyricism, Sea Wife is at once the compelling story of a family's glorious, misbegotten seafaring adventure and an allegory for life itself. This is an unforgettable novel."
—Claire Messud

"Sea Wife is an immersive pleasure. Amity Gaige captivates us, tricks us, and transports us.  She understands the inner and the outer world—from quiet misery to murderous seas—and there is no world she cannot explore and illuminate."
—Amy Bloom

"Sea Wife brilliantly breathes life not only into the perils of living at sea, but also into the fraught and hidden dangers of domesticity, motherhood, and marriage. What a smart, swift, and thrilling novel."
—Lauren Groff

"Few writers have portrayed marriage and parenthood with more fierce intelligence than Amity Gaige, but in Sea Wife, she has outdone herself.  This is an unforgettable portrait of a family that ventures out to sea, only to be riven by the weight of the past, and the politics of the present. Piercingly written and compelling from beginning to end, Sea Wife is a major accomplishment."
—Adam Haslett

"Stunning and deep."
—Booklist

"Gripping... A powerful take on a marriage on the rocks."
—Kirkus Reviews

"[A] splendid, wrenching novel...Every element of this impressive novel clicks into a dazzling, heartbreaking whole."
—Publishers Weekly [starred review]

From the highly acclaimed author of Schroder, a smart, sophisticated literary page turner about a young family who escape suburbia for a year-long sailing trip that upends all of their lives

Juliet is failing to juggle motherhood and her anemic dissertation when her husband, Michael, informs her that he wants to leave his job and buy a sailboat. The couple are novice sailors, but Michael persuades Juliet to say yes. With their two kids--Sybil, age seven, and George, age two, Juliet and Michael set off for Panama, where their forty-four-foot sailboat awaits them--a boat that Michael has christened the Juliet.

The initial result is transformative: their marriage is given a gust of energy, and even the children are affected by the beauty and wonderful vertigo of travel. The sea challenges them all--and most of all, Juliet, who suffers from postpartum depression.

Sea Wife is told in gripping dual perspectives: Juliet's first-person narration, after the journey, as she struggles to come to terms with the dire, life-changing events that unfolded at sea; and Michael's captain's log--that provides a riveting, slow-motion account of those same inexorable events.

Exuberant, harrowing, witty, and exquisitely written, Sea Wife is impossible to put down. A wholly original take on one of our oldest stories--survival at sea--it also asks a pertinent question for our polarized political moment: How does a crew with deep philosophical differences and outmoded gender roles bring a ship safely to shore?
About the Author
---
AMITY GAIGE is the author of three previous novels, O My Darling, The Folded World, and Schroder, which was short-listed for the Folio Prize in 2014. Published in eighteen countries, Schroder was named one of best books of 2013 by The New York Times Book Review,The Huffington Post, Washington Post, The Wall Street Journal, Kirkus Reviews, The Women's National Book Association, Cosmopolitan, Denver Post, The Buffalo News, The Millions, Amazon, Bookmarks, and Publisher's Weekly, among others. Gaige is the recipient of many awards for her previous novels, including Foreword Book of the Year Award for 2007; and in 2006, she was named one of the "5 Under 35" outstanding emerging writers by the National Book Foundation. She has a Fulbright and a Guggenheim Fellowship, and residencies at MacDowell and Yaddo. Her work has appeared in The Guardian, The New York Times, the Literary Review, The Yale Review, and One Story. She lives in Connecticut with her family.
Praise For…
---
"Gripping... A powerful take on a marriage on the rocks."
—Kirkus Reviews

"[A] splendid, wrenching novel...Every element of this impressive novel clicks into a dazzling, heartbreaking whole."
—Publishers Weekly [starred review]

"Sea Wife is a gripping tale of survival at sea—but that's just the beginning.  Amity Gaige also manages, before she's done, to probe the underpinnings of romantic love, marriage, literary ambition, political inclinations in the Trump age, parenthood, and finally, the nature of survival itself in our broken world.  Gaige is thrillingly talented, and her novel enchants."
—Jennifer Egan

"Taut as a thriller, emotionally precise yet threaded with lyricism, Sea Wife is at once the compelling story of a family's glorious, misbegotten seafaring adventure and an allegory for life itself. This is an unforgettable novel."
—Claire Messud

"Sea Wife is an immersive pleasure. Amity Gaige captivates us, tricks us, and transports us.  She understands the inner and the outer world—from quiet misery to murderous seas—and there is no world she cannot explore and illuminate."
—Amy Bloom

"Sea Wife brilliantly breathes life not only into the perils of living at sea, but also into the fraught and hidden dangers of domesticity, motherhood, and marriage. What a smart, swift, and thrilling novel."
—Lauren Groff

"Few writers have portrayed marriage and parenthood with more fierce intelligence than Amity Gaige, but in Sea Wife, she has outdone herself.  This is an unforgettable portrait of a family that ventures out to sea, only to be riven by the weight of the past, and the politics of the present. Piercingly written and compelling from beginning to end, Sea Wife is a major accomplishment."
—Adam Haslett