Ill Winds: Saving Democracy from Russian Rage, Chinese Ambition, and American Complacency (Hardcover)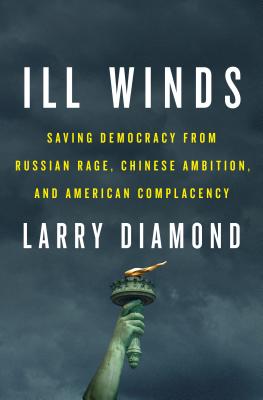 $28.00
Not On Our Shelves—Ships in 1-5 Days
Description
---
*Shortlisted for the 2020 Arthur Ross Book Award*

From America's leading scholar of democracy, a personal, passionate call to action against the rising authoritarianism that challenges our world order—and the very value of liberty

Larry Diamond has made it his life's work to secure democracy's future by understanding its past and by advising dissidents fighting autocracy around the world. Deeply attuned to the cycles of democratic expansion and decay that determine the fates of nations, he watched with mounting unease as illiberal rulers rose in Hungary, Poland, Turkey, the Philippines, and beyond, while China and Russia grew increasingly bold and bullying. Then, with Trump's election at home, the global retreat from freedom spread from democracy's margins to its heart.

Ill Winds' core argument is stark: the defense and advancement of democratic ideals relies on U.S. global leadership. If we do not reclaim our traditional place as the keystone of democracy, today's authoritarian swell could become a tsunami, providing an opening for Vladimir Putin, Xi Jinping, and their admirers to turn the twenty-first century into a dark time of despotism.

We are at a hinge in history, between a new era of tyranny and an age of democratic renewal. Free governments can defend their values; free citizens can exercise their rights. We can make the internet safe for liberal democracy, exploit the soft, kleptocratic underbelly of dictatorships, and revive America's degraded democracy. Ill Winds offers concrete, deeply informed suggestions to fight polarization, reduce the influence of money in politics, and make every vote count.

In 2020, freedom's last line of defense still remains "We the people."
About the Author
---
Larry Diamond is a senior fellow at the Hoover Institution and Stanford's Freeman Spogli Institute for International Studies. He is also a professor by courtesy of political science and sociology at Stanford University and a past director of its Center on Democracy, Development, and the Rule of Law. In 2004, Diamond served in Baghdad as a senior adviser on governance to the Coalition Provisional Authority in Iraq. He is the author of numerous books, including The Spirit of Democracy: The Struggle to Build Free Societies Throughout the World, the editor of coeditor of fifty books, and a counding founding coeditor of the Journal of Democracy.
Praise For…
---
"[Diamond] has spent 40 years circumnavigating the globe promoting democracy in Nigeria, Venezuela and some 70 other countries. Yet today he is aghast...In his impassioned book Ill Winds, he proves a stalwart, persuasive champion for democracy at a moment when its reputation has been fouled by Britain mauling itself with Brexit and by the United States electing someone as morally, intellectually and literally bankrupt as Donald Trump."—Gary J. Bass, New York Times Book Review

"The question he poses is how to prevent the world's democratic recession from turning into outright depression . . . Diamond's solution is for the US to launch a concerted—though not warlike—promotion of global democracy. His case is well made." —Financial Times

"Diamond succeeds in making a compelling case that the global assault on democracy is the single most important trend driving global events today…Diamond's entire book should be read as a clarion call that we have reached a critical moment where the price of inaction will render democratic government not only ineffective, but increasingly defenseless."—Foreign Policy  

"[An] important new book… galvanizing"—San Francisco Chronicle
 
" One of the world's foremost experts on democracy and a professor at Stanford University, Diamond emphasizes that the declining quality of American democracy is only part of a broader downturn from Venezuela to Turkey to Hungary, to name a few egregious cases. Rather than the outright coups of the past, democracy now suffers more discreetly… Political reforms, electoral design, campaign-financing legislation — these may not have the visceral appeal of debates over gun rights or taxation or the environment, but they are just as critical, even more so if we consider that a functional democracy is needed to tackle all our other challenges."—Carlos Lozada, The Washington Post

"A leading scholar of democracy combines his academic research with his direct experience to piece together a wide-ranging study of the creation—and possible destruction—of that specific form of governance.… A potent mix of theory and practice…inspiring."—Kirkus

  "From a scholar who has dedicated his life to studying liberal democracy comes a plan for its long-term preservation. 'Ill winds' are indeed blowing—and Diamond has shown us how to weather and, ultimately, beat back the storm."  —Madeleine K. Albright, former Secretary of State and author of Fascism: A Warning
 
 "With Ill Winds, Diamond has provided a sobering description of the origins and impacts of the global assault—from both foreign and domestic sources—on democracy, and a thorough, thoughtful, and indeed, hopeful, prescription for what to do about it. His life-long devotion to the study of democracy is clearly evident in the scholarly and authoritative approach. This is a crucial read for anyone who is concerned about current trends, and reversing the insidious effects of the broad-gauged assault on truth that regrettably is eroding our traditional and long-held precepts of freedom." —James Clapper, former U.S. Director of National Intelligence and author of Facts and Fears
 
 "Larry Diamond nails it. The rise of the authoritarian impulse globally comes at a time when the United States is unwilling to provide the leadership that nudges these countries toward freedom. There will be lasting consequences if we continue down this road. A must read."— Senator Jeff Flake, author of Conscience of a Conservative
 
 "Synthesizing a lifetime of democracy scholarship, Larry Diamond has written a brilliant, sweeping analysis of the 'ill winds' threatening the future of democracy both in America and around the world.  Diamond not only provides a powerful, precise diagnosis of the causes of democratic erosion in the world today, but also offers concrete prescriptions for democratic renewal in the United States and around the globe. Ill Winds is a page-turning international manifesto, calling upon 'democrats of the world to unite' to preserve, reinvigorate, and expand those democratic institutions and values that have produced so much peace, prosperity, and freedom in the past. A must read for all, from future heads of state to every citizen of the world." —Michael McFaul, former U.S. ambassador to the Russian Federation and author of From Cold War to Hot Peace
 
 "This is a powerful, vital, and essential treatment of the dangerous waters our nation must navigate in this turbulent 21st century. Without steady American leadership—which vacillates too often—chaos and instability will only increase. Ill Winds is a superb cautionary tale and a prescriptive guide as well."—Adm. James Stavridis, USN (ret.), author of Sea Power
 
"Larry Diamond is one of the world's foremost students of democracy. He has spent a lifetime studying, and advocating, self-government. In Ill Winds, he distills decades of research to explain why Trump is not unique, but rather indicative of a worldwide threat to democracy whose dimensions we must take seriously. He offers astute advice on how we can repair the democratic fabric and stop the rise of dangerous demagogues. An imperative and important read in these deeply troubled times." —Max Boot, author of The Corrosion of Conservatism

"I hope this book will be on every presidential candidate's reading list. Larry Diamond has distilled a lifetime of wisdom and experience into not only a diagnosis of what ails democracy around the world, including in the United States, but also, critically, a set of prescriptions for going forward. He provides a manual for a deep, broad, enduring strategy to fight the good fight."—Anne-Marie Slaughter, president and CEO, New America; and author of Unfinished Business