Conditional Citizens: On Belonging in America (Paperback)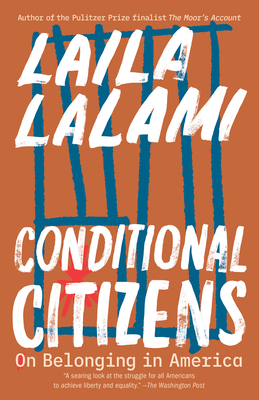 $16.00
Coming Soon—Pre-Order Now
Description
---
A New York Times Editors' Choice
Named a Best Book of the Year by Time, NPR, Bookpage and the L.A. Times.
Longlisted for the Andrew Carnegie Medal for Excellence in Nonfiction 

What does it mean to be American? In this starkly illuminating and impassioned book, Pulitzer Prize­­–finalist Laila Lalami recounts her unlikely journey from Moroccan immigrant to U.S. citizen, using it as a starting point for her exploration of the rights, liberties, and protections that are traditionally associated with American citizenship. Tapping into history, politics, and literature, she elucidates how accidents of birth—such as national origin, race, and gender—that once determined the boundaries of Americanness still cast their shadows today.
 
Lalami poignantly illustrates how white supremacy survives through adaptation and legislation, with the result that a caste system is maintained that keeps the modern equivalent of white male landowners at the top of the social hierarchy. Conditional citizens, she argues, are all the people with whom America embraces with one arm and pushes away with the other.
 
Brilliantly argued and deeply personal, Conditional Citizens weaves together Lalami's own experiences with explorations of the place of nonwhites in the broader American culture.
About the Author
---
LAILA LALAMI was born in Rabat and educated in Morocco, Great Britain, and the United States. She the author of four novels, including The Moor's Account, which won the American Book Award, the Arab-American Book Award, and the Hurston/Wright Legacy Award and was a finalist for the Pulitzer Prize. Her most recent work, The Other Americans, was a finalist for the National Book Award. Her essays have appeared in the Los Angeles Times, The Washington Post, The Nation, Harper's, The Guardian, and The New York Times. Lalami is a professor of creative writing at the University of California at Riverside. She lives in Los Angeles.
Praise For…
---
One of:
Electric Literature 56 Books by Women and Nonbinary WOC to read in 2020
BuzzFeed Most Anticipated Books of 2020
Millions Most Anticipated Books of 2020
Vulture Best Upcoming Books 2020, 1/10/20
Paste Magazine Most Anticipated NonFiction Books of 2020
The Week Anticipated Books of 2020
BookPage: Most Anticipated nonfiction
Ms. Magazine:  Most Anticipated Feminist Books 
Library Journal:  Barbara's Picks
PW top 10: Most Anticipated Politics/Current Events 
LitHub: Most Anticipated Books of 2020 


"No-holds-barred... thread[s] together the experiences of a breathtakingly diverse underclass. This constituency is increasingly finding its voice, and she is amplifying what had long been intimate, complicated inner thoughts."
—NPR

"Powerful...Drawing on her considerable talents and abundant intelligence—Lalami attempts to account for the ways that powerful American forces use class status, religion, border policing, national origin, non-whiteness, and gender to diminish and deactivate full citizenship. Conditional Citizens clarifies the stakes of the most crucial American election season of the 21st century thus far."
—The Boston Globe

"In Conditional's sharp, bracingly clear essays, Lalami lays out all the ways that the basic rights of citizenship are unevenly applied to those whose faith or skin tone fall outside the realm of "traditional" Judeo-Christian values. By fusing deep research with lived experience, the book doesn't just ask you to consider that the personal is political; it makes you marvel that anyone could still presume otherwise"
—Entertainment Weekly

"[Lalami's] perspective is unique, and the beautifully written personal stories she includes give Conditional Citizens a flair and warmth rare in a polemic about what's wrong with America."
—Minneapolis Star Tribune

"Propulsive, fascinating... Lalami treats this complex, incendiary topic with nuanced considerationand blistering insight."
—Booklist [starred review]

"In this eloquent and troubling account, novelist and National Book Award–finalist Lalami (The Other Americans) draws on her personal history as "an immigrant, a woman, an Arab, and a Muslim" to argue that becoming a U.S. citizen does not necessarily mean becoming "an equal member of the American family" . . . This profound inquiry into the American immigrant experience deserves to be widely read."
—Publishers Weekly [starred review]

"Consistently thoughtful and incisive, the book confronts the perils of our modern age with truths to inspire the coalition-building necessary to American cultural and democratic survival. A bracingly provocative collection perfect for our times."
—Kirkus Reviews

"Laila Lalami has written with such sharp clarity and illuminating insight that reading this book was like encountering America for the first time. Probing, unflinching and fiercely intelligent, Conditional Citizens is a must-read for all of those who have stared, stunned, at the shifting terrain of our political landscape and wondered how we got here, and what we can do."
—Maaza Mengiste, author of The Shadow King
 
"This is an urgent, compelling, and persuasive book, written by one of our most important critics of the American character. Laila Lalami has given us a clear-eyed, even-handed assessment of this country's potential—and its limits—through her insightful notion of conditional citizenship. Her book is a gift to all Americans—if they are willing to receive it."
—Viet Thanh Nguyen, author of The Sympathizer and Nothing Ever Dies

"With great moral passion and intellectual verve, Laila Lalami explores the questions the political volcanos of our times have thrown at us: where do we belong, how contingent is our place in the world, and how are citizens made and unmade? Whether narrating her own journey or invoking history and literature, she equips us with bracingly fresh resources to confront our terrible new age of mass deportations, border walls, and brutally enforced statelessness."
—Pankaj Mishra, author of Age of Anger

"Conditional Citizens is a blitz on the way the nation titillates and injures its most vulnerable. Lalami has created a fleshy yet rigorous treatise on how this national obsession with suffering necessitates different ways to be and to remember. The book is absolutely remarkable." 
—Kiese Laymon, author of Heavy