Tigerland: 1968-1969: A City Divided, a Nation Torn Apart, and a Magical Season of Healing (Paperback)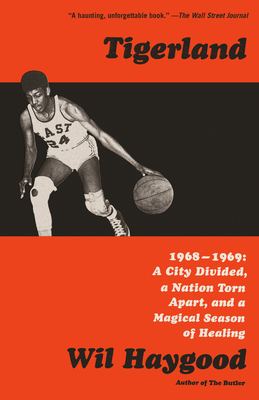 $16.95
Not Yet Published—Pre-Order Now
Description
---
The inspiring story of two sports teams from a segregated high school that won it all amidst the racial turbulence of 1968-1969. From the bestselling author of The Butler.

In 1968 and 1969, Martin Luther King Jr. and Bobby Kennedy were assassinated. Race relations were frayed as never before. Cities were aflame. Riots and demonstrations spread across the nation. But in Columbus, Ohio, the Tigers of poor, segregated East High School did something no team from one school had ever done before: they won the state basketball and baseball championships in the same year. They defeated bigger, richer, whiter teams across the state and along the way brought blacks and whites together, eased a painful racial divide throughout the state, and overcame extraordinary obstacles on their road to success. In Tigerland, Wil Haygood has crafted a spirited and stirring account of this improbable triumph, taking us deep into the personal lives of these local heroes. And he puts the Tigers' story in the context of the racially charged sixties, giving us an illuminating and important social history, profoundly relevant to the racial backdrop against which we are all living today.
About the Author
---
WIL HAYGOOD is currently a Visiting Distinguished Professor in the department of media, journalism, and film at Miami University, Ohio. For nearly three decades he was a journalist, serving as a national and foreign correspondent at The Boston Globe, where he was a Pulitzer Prize finalist, and then at The Washington Post. He is the author The Butler: A Witness to History--which was adapted into the critically acclaimed film directed by Lee Daniels, starring Forest Whitaker and Oprah Winfrey; Showdown: Thurgood Marshall and the Supreme Court Nomination That Changed America; Sweet Thunder: The Life and Times of Sugar Ray Robinson; In Black and White: The Life of Sammy Davis, Jr; Two on the River; King of the Cats: The Life and Times of Adam Clayton Powell Jr.; and The Haygoods of Columbus: A Family Memoir.
Praise For…
---
"Journalist Haygood tells a story of perseverance, courage, and breathtaking talent as he recounts, in vibrant detail, the achievements of the Tigers, a basketball and baseball team at Columbus, Ohio's inner-city East High School...[The] author creates moving portraits of the teenagers and their undaunted coaches and supporters...Haygood dramatically renders the heady excitement of each game, the tense moments of a close contest, and the exuberant—tear-jerking—wins. The inspiring story of East High's championship becomes even more astonishing in the context of endemic racism, which the author closely examines, and "the turmoil of a nation at war and in the midst of unrest," roiled by the assassinations of Martin Luther King Jr. and Robert Kennedy. An engrossing tale of one shining moment in dark times." —Kirkus (starred review)

"As in all his avidly read books, Haygood sets the stories of fascinating individuals within the context of freshly reclaimed and vigorously recounted African American history as he masterfully brings a high school and its community to life. This laugh-and-cry tale of rollicking and wrenching drama set to the beat of thumping basketballs and the crack of baseball bats, fast breaks and cheerleaders' chants, is electric with tension and conviction, and incandescent with unity and hope." —Booklist (starred review)

"Mr. Haygood executes a series of historical fadeaway jump shots, taking us back for extended interludes with the likes of Rev. King, Jackie Robinson, federal Judge Bobby Duncan and other civil rights catalysts...the interludes illustrate the forward leaps, staggering setbacks and relentlessly hard work toward equality in America... And then we're off on a classic sports story, as the school's basketball and baseball players take form and the teams clamber to improbable heights. Naturally, Mr. Haygood explores the forces that shaped the young men, almost all of whom grew up in fatherless families with working mothers who struggled to feed and clothe them. Like J. Anthony Lukas' Pulitzer Prize-winning 1985 book, "Common Ground" — also focused on school segregation — there's complexity and ambiguity throughout." —Pittsburgh Post-Gazette

"Haygood's look at the socially turbulent atmosphere, told from the perspective of a black man coming of age at the time, is nationally relevant…it is a good story with uplifting moments of achievements by the players in spite of hardship and cultural turmoil."
—The Columbus Dispatch
 
"'Tigerland' is about more than sports. Sports provides a plot line and characters for a conversation about race in America. [Haygood's] research and careful descriptions of the athletes and community distinguish 'Tigerland' and give it humanity. 'Tigerland' maintains relevance today because it demands that we ask what, if anything, has been resolved."
—StarTribune
 
"Here are the raw materials of a classic American story…vividly told. [Haygood] is a walker in the city with a memory like a lock box and a reporter's notebook crammed with life lessons… a haunting, unforgettable book."
 —Wall Street Journal