We're following all official guidelines to keep ourselves healthy on the job, and as a result, shipping may be delayed.
You will receive an email from our web orders team confirming that your order has been processed.
We thank you for your support and your patience at this challenging time.
The Woman's Hour: The Great Fight to Win the Vote (Hardcover)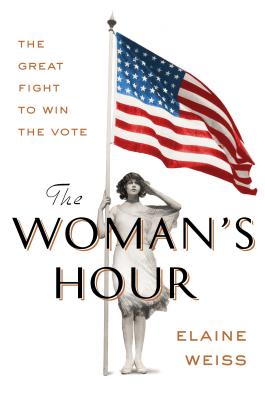 March 2018 Indie Next List
---
"Over the course of two steamy weeks in August 1920, hordes of suffragists, anti-suffragists, lobbyists, and lawmakers descended on Nashville in a fight to make Tennessee the 36th and final state to ratify the 19th Amendment, giving women the right to vote. This was the final chance, and both sides would do whatever it took to win - bullying, bribery, blackmail, and even kidnapping. I was on the edge of my seat. I had no idea how close the suffragists came to losing. This is narrative nonfiction at its best."
— Lisa Wright, Oblong Books And Music,LLC., Millerton, NY
Description
---
"Both a page-turning drama and an inspiration for every reader"--Hillary Rodham Clinton

Soon to Be a Major Television Event

The nail-biting climax of one of the greatest political battles in American history: the ratification of the constitutional amendment that granted women the right to vote.

"With a skill reminiscent of Robert Caro, [Weiss] turns the potentially dry stuff of legislative give-and-take into a drama of courage and cowardice."--The Wall Street Journal

"Weiss is a clear and genial guide with an ear for telling language ... She also shows a superb sense of detail, and it's the deliciousness of her details that suggests certain individuals warrant entire novels of their own... Weiss's thoroughness is one of the book's great strengths. So vividly had she depicted events that by the climactic vote (spoiler alert: The amendment was ratified!), I got goose bumps."--Curtis Sittenfeld, The New York Times Book Review

Nashville, August 1920. Thirty-five states have ratified the Nineteenth Amendment, twelve have rejected or refused to vote, and one last state is needed. It all comes down to Tennessee, the moment of truth for the suffragists, after a seven-decade crusade. The opposing forces include politicians with careers at stake, liquor companies, railroad magnates, and a lot of racists who don't want black women voting. And then there are the "Antis"--women who oppose their own enfranchisement, fearing suffrage will bring about the moral collapse of the nation. They all converge in a boiling hot summer for a vicious face-off replete with dirty tricks, betrayals and bribes, bigotry, Jack Daniel's, and the Bible.

Following a handful of remarkable women who led their respective forces into battle, along with appearances by Woodrow Wilson, Warren Harding, Frederick Douglass, and Eleanor Roosevelt, The Woman's Hour is an inspiring story of activists winning their own freedom in one of the last campaigns forged in the shadow of the Civil War, and the beginning of the great twentieth-century battles for civil rights.
About the Author
---
Elaine Weiss is an award-winning journalist and writer whose work has appeared in The Atlantic, Harper's, The New York Times, and The Christian Science Monitor, as well as in reports and documentaries for National Public Radio and Voice of America. A MacDowell Colony Fellow and Pushcart Prize Editor's Choice honoree, she is also the author of Fruits of Victory: The Woman's Land Army in the Great War (Potomac Books/University of Nebraska Press).
Praise For…
---
"Weiss renders the conflict so suspensefully that it is easy to see why Steven Spielberg's Amblin Television has already bought the rights to the book. The book grippingly recounts the twists and reversals that took place in the weeks leading up to the suffrage victory, but it is even more thrilling in its presentation of ideas—both those of the suffragists and those of the people who opposed them…The Woman's Hour animates the past so fully that its facts feel anything but fated."—Casey Cep, The New Yorker

"At the heart of democracy lies the ballot box, and Elaine Weiss's unforgettable book tells the story of the female leaders who—in the face of towering economic, racial, and political opposition—fought for and won American women's right to vote. Unfolding over six weeks in the summer of 1920, The Woman's Hour is both a page-turning drama and an inspiration for everyone, young and old, male and female, in these perilous times. So much could have gone wrong, but these American women would not take no for an answer: their triumph is our legacy to guard and emulate."—Hillary Rodham Clinton

"Stirring, definitive, and engrossing….Weiss brings a lucid, lively, journalistic tone to the story…The Woman's Hour is compulsory reading."—NPR.org

"Weiss is a clear and genial guide with an ear for telling language … She also shows a superb sense of detail, and it's the deliciousness of her details that suggests certain individuals warrant entire novels of their own… Weiss's thoroughness is one of the book's great strengths. So vividly had she depicted events that by the climactic vote (spoiler alert: The amendment was ratified!), I got goose bumps."—Curtis Sittenfeld, The New York Times Book Review

"With a skill reminiscent of Robert Caro, [Weiss] turns the potentially dry stuff of legislative give-and-take into a drama of courage and cowardice."—The Wall Street Journal

"A genteel but bare-knuckled political thriller…the account reads like a reality show, impossible to predict…Weiss' narrative is energetic and buoyant even at the most critical moments."—Ms. Magazine

"A nonfiction political thriller…Weiss zeroes in on the final campaign of the suffrage movement."—Bustle.com
 
"Riveting… Weiss provides a multidimensional account of the political crusade… The result is a vivid work of American history." —The National Book Review

"Anyone interested in the history of our country's ongoing fight to put its founding values into practice—as well as those seeking the roots of current political fault lines—would be well-served by picking up Elaine Weiss's The Woman's Hour. By focusing in on the final battle in the war to win women the right to vote, told from the point of view of its foot soldiers, Weiss humanizes both the women working in favor of the amendment and those working against it, exposing all their convictions, tactics, and flaws. She never shies away from the complicating issue of race; the frequent conflict and occasional sabotage that occurred between women's suffrage activists and the leaders of the nascent civil rights movement make for some of the most fascinating material in the book."—Margot Lee Shetterly, author of the #1 New York Times bestseller Hidden Figures
 
"Even the most informed feminists will learn a thing or two."—HelloGiggles
 
"[A] lively history."—Newsday
 
"This timely exploration of the history of American gender politics reverberates during the present debate over female equality in all aspects of life and reminds us of how long and complex that struggle has been."—Knoxville News Sentinel
 
"An intriguing, timely read. Ripe for book club discussion."—South Coast Today
 
"[An] important tale…Weiss' reportage…enables her to add splashes of color [and] wonderful dimension."—USA Today
 
"A page-turner…the story here is told in all its ugliness."—New York Journal of Books
 
"This well-researched and well-documented history reveals how prosuffragists sometimes compromised racial equality to win white women's enfranchisement, and that, although the 19th Amendment was ratified, there exists to this day an ongoing battle to effect universal, unrestricted suffrage."—Library Journal

"Weiss does a wonderful job of laying out the background of the American women's suffrage movement….A lively slice of history filled with political drama, Weiss's book captures a watershed moment for American women."—Book Page

"Remarkably entertaining ... a timely examination of a shining moment in the ongoing fight to achieve a more perfect union."—Publishers Weekly, Starred and Boxed Review

"Imaginatively conceived and vividly written, The Woman's Hour gives  us a stirring history of women's long journey to suffrage and to political influence. Making bold connection with race and class,  Weiss's splendid book is as much needed today as it was in 1940 when Eleanor Roosevelt noted that men hate women with power.  As every victory since the Civil War and Reconstruction faces the wrecker,  The Woman's Hour is an inspiration in the continuing struggles for suffrage, and for race and gender justice, and for democracy.—Blanche Wiesen Cook, author of the New York Times bestseller Eleanor Roosevelt


Praise for Fruits of Victory

"Weiss's excellent work of cross-disciplinary scholarship offers readers a unique look at how WWI changed society."
—Booklist

"Weiss effectively chronicles the birth of the WLA movement and the dedicated women behind it. Recommended for both scholarly readers and interested history buffs."
—Library Journal