They Said No to Nixon: Republicans Who Stood Up to the President's Abuses of Power (Hardcover)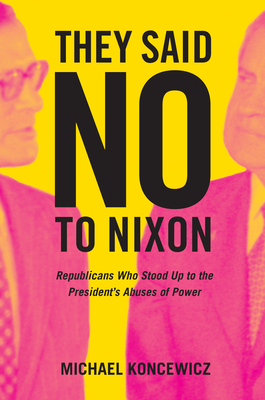 Description
---
"Excruciatingly timely."—Kirkus Reviews


In more than three thousand recorded conversations, the Nixon tapes famously exposed a president's sinister views of governance that would eventually lead to his downfall. Despite Richard Nixon's best efforts, his vision of a government where he could use his power to punish his political enemies never came to fruition because members of his own party defied his directives. While many are familiar with the Republicans who turned against Nixon during the final stages of the Watergate saga, They Said No to Nixon uncovers for the first time those within the administration—including Nixon's own appointees—who opposed the White House early on, quietly blocking the president's attacks on the IRS, the Justice Department, and other sectors of the federal government.
 
Culling from previously unpublished excerpts from the tapes and recently released materials that expose the thirty-seventh president's uncensored views, Michael Koncewicz reveals how Republican party members remained loyal civil servants in the face of Nixon's attempts to expand the imperial presidency.
 
Delving into the abuses of power surrounding the Watergate era and showing how they were curbed, They Said No to Nixon sheds light on the significant cultural and ideological shifts that occurred within the GOP during the pivotal 1970s. Koncewicz deftly demonstrates how Nixon's administration marked a decisive moment that led to the rise of modern conservatism and today's ruthlessly partisan politics.
About the Author
---
Michael Koncewicz is the Cold War Collections Specialist at the Tamiment Library and Robert F. Wagner Labor Archives at New York University. He previously worked for the National Archives at the Richard Nixon Presidential Library and Museum. 
Praise For…
---
"Brief but scholarly in all the right ways—and excruciatingly timely."
— Kirkus Review
"First Martyr of Liberty: Crispus Attucks in American Memory is well written, thoroughly researched, and filled with cogent analysis about the memory of Crispus Attucks."
— Historical Journal of Massachusetts