Moments That Made the Movies (Paperback)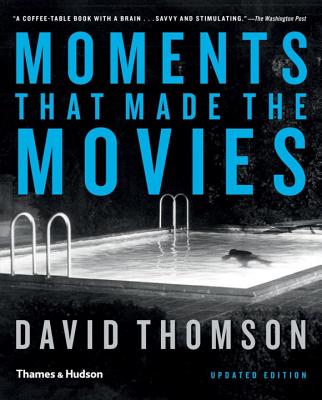 $29.95
Special Order—Subject to Availability
Description
---
"Cinema history cloaked as a coffee-table showpiece." —San Francisco Chronicle
In his first fully illustrated work, David Thomson breaks new ground by focusing in on a series of moments—which his readers will also experience in beautifully reproduced imagery—from seventy-two films across a 100-year-plus span. An indispensable counterpart to both his classic Biographical Dictionary of Film (called "a miracle" by Sight and Sound) and his lauded recent history, The Big Screen ("a pungently written, brilliant book" according to David Denby), Moments takes readers on an unprecedented visual tour, where the specifics of the imagery the reader is seeing are inextricably tied to the text. Thomson's moments range from a set of Eadweard Muybridge's pioneering photographs to sequences in films from the classic—Citizen Kane, Sunset Boulevard, The Red Shoes—to the unexpected—The Piano Teacher, Burn After Reading.
The excitement of Moments's dynamic visuals will be matched only by the discussion it incites in film circles, as readers revisit their own list of memorable moments and then re-experience the films—both those included on Thomson's list and from their own life—as never before. Moments That Made the Movies will undoubtedly reaffirm Thomson's place as—according to John Banville—"the greatest living writer on the movies."



About the Author
---
David Thomson is a film critic and frequent contributor to the New York Times, the Guardian, and more. He is the author of The Biographical Dictionary of Film, now in its sixth edition, and Moments that Made the Movies.
Praise For…
---
A coffee-table book with a brain... Thomson is arguably the best American film critic since Pauline Kael, and almost everything he has to say in "Moments" is savvy and stimulating.

Moments That Made the Movies is cinema history cloaked as a coffee-table showpiece. It comes at 70 individual films—usual suspects and irregulars alike— by way of a defining sequence. Whichever his approach, this most offbeat of cinephiles and spot-on of writers shows how the part represents the whole. The consistent delight of Moments, which samples both the thin crust (When Harry Met Sally . . .) and the deep dish (The Passenger), is how Thomson makes the reader see how often the microcosm is both macro and cosmic.


A marvelous wordsmith with a keen eye, Thomson . . . somehow manages to illustrate his many moments in films both obscure . . . and legendary.

The Brit transplant's long experience with writing accessible, entertaining, idiosyncratic, erudite and enlightening movie books led him to the most delightful one of all: Moments that Made the Movies. . . . This is a keeper.

Explores iconic scenes in both classic and contemporary films that were not only enjoyable, but in some way groundbreaking.

Moments That Made the Movies is full of assured declarations, chatty asides and free-associative essays. . . . both fun and not a little feverish. . . . Moment by moment, each statement is certainly worth considering, made as it is by a highly respected critic who is appreciated exactly for such a garrulous parade of this-not-that explications.


If your imagination is captured by freeze frames . . . movie history might be summed up in film historian David Thomson's Moments That Made the Movies. Films are often encapsulated by single scenes — consider the boulder pursuing Indiana Jones or Joseph Cotten's endless wait at the end of The Third Man—and the ever-sharp Thomson picks several dozen to tell the story of cinema.


The idea here is to focus on a series of moments in seventy-two films of particular significance and accompany them with wonderful stills representing those moments.

Accompanied by wonderfully evocative stills, this eminently browsable book is certain to delight film lovers.

[A] film-lover's treasure. . . . The book's effect is undeniable, as the reader feels determined to hit the nearest theater.

It is fascinating to read why such moments as the airplane scene in North by Northwest, the initiation of Michael Corleone into the family business in The Godfather, the noir mood of the pool scene in Sunset Boulevard, and the café scene in Bonnie and Clyde . . . are important in the history of film. . . . Highly recommended.


Unafraid to stump for lesser-known and lowbrow movies . . . may inspire you to look at the whole medium anew.

Thomson's . . . moments are captured in a few pages each, with 250 glorious stills accompanying the brief analyses.

A visually thrilling tour of the magic of the movies, one special moment at a time.

This book is both a visual delight and a valuable tool for anyone who enjoys a good movie.

Film critic David Thomson is an artist who paints pictures with words. ... What makes Moments special is Thomson's choices. He doesn't spotlight the obvious moments. ... In doing so, Thomson reveals unique and telling moments in film history that viewers may have overlooked. Moments That Made the Movies is a treasure-trove that highlights and helps etch many of these films into the minds of cinephiles.


[Thomson's] basic premise in this beautifully illustrated book is sound—that it is the moments from movies that we retain rather than the whole thing.

A real treasure.

Tells of many an incredible filmed moment.

A lovely visual and written pairing that will be perfect for any film or arts library.

Remarkable. . . . Thomson remains acutely sensitive to the motion picture's birthplace in the world of still imagery.

Experiential. . . . A great thing about Thomson is that he leaves things open.

Fascinating.