The Devil's Casino: Friendship, Betrayal, and the High Stakes Games Played Inside Lehman Brothers (Hardcover)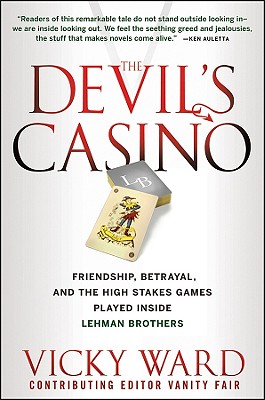 $27.95
Special Order—Subject to Availability
Description
---
The inside story of what really happened at Lehman Brothers and why it failed
In The Devil's Casino: Friendship, Betrayal, and the High Stakes Games Played Inside Lehman Brothers, investigative writer and Vanity Fair contributing editor Vicky Ward takes readers inside Lehman's highly charged offices. What Ward uncovers is a much bigger story than Lehman losing at the risky game of collateralized debt obligations, swaps, and leverage.
A can't put it down page turner that opens the world of Wall Street to view unlike any book since Bonfire of the Vanities, except that The Devil's Casino isn't fiction.
Details what went on behind-the-scenes the weekend Lehman Brothers failed, as well as inside Lehman during the twenty years preceding it
Describes the feudal culture that proved both Lehman's strength and its Achilles' heel
Written by Vicky Ward, one of today's most connected business and finance writers
On Wall Street, Lehman Brothers was cheekily known as "the cat with nine lives." But as The Devil's Casino documents, this cat pushed its luck too far and died?the victim of men and women blinded by arrogance.
About the Author
---
VICKY WARD has been a contributing editor to Vanity Fair since 2001, specializing in investigative reporting. She has profiled, among others, Jean-Marie Messier, Carly Fiorina, CIA agent Valerie Plame, businesswoman Louise MacBain, Morgan Stanley, the late Bruce Wasserstein, counterterrorism expert Rich-ard Clarke, Francois Pinault, the Getty, the Guggenheim, Fairfield Greenwich Group (a Madoff feeder fund), Brooke Astor, and Kate Moss. Ward is a weekly columnist for the Huffington Post and a contributor to CNBC. She was previously the executive editor of Talk magazine. Her work has appeared in the New York Times, the Financial Times, the London Times, and the Daily Telegraph. A native Briton, Ward was the runner-up for the Catherine Pakenham Award in 1994, Britain's most prestigious award for young women writers. She holds a master's degree in English literature from Cambridge University and has lived in New York City since 1997.