We're following all official guidelines to keep ourselves healthy on the job, and as a result, shipping may be delayed.
You will receive an email from our web orders team confirming that your order has been processed.
We thank you for your support and your patience at this challenging time.
How to Bake Everything: Simple Recipes for the Best Baking (Hardcover)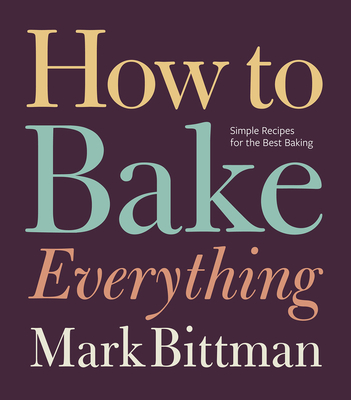 Description
---
In the most comprehensive book of its kind, Mark Bittman offers the ultimate baker's resource. Finally, here is the simplest way to bake everything, from American favorites (Crunchy Toffee Cookies, Baked Alaska) to of-the-moment updates (Gingerbread Whoopie Pies). It explores global baking, too: Nordic ruis, New Orleans beignets, Afghan snowshoe naan. The recipes satisfy every flavor craving thanks to more than 2,000 recipes and variations: a pound cake can incorporate polenta, yogurt, ricotta, citrus, hazelnuts, ginger, and more. New bakers will appreciate Bittman's opinionated advice on essential equipment and ingredient substitutions, plus extensive technique illustrations. The pros will find their creativity unleashed with guidance on how to adapt recipes to become vegan, incorporate new grains, improvise tarts, or create customized icebox cakes using a mix-and-match chart. Demystified, deconstructed, and debunked—baking is simpler and more flexible than you ever imagined.
About the Author
---
MARK BITTMAN is the author of thirty acclaimed books, including the How to Cook Everything series, the award-winning Food Matters, and the New YorkTimes number-one bestseller, VB6: Eat Vegan Before 6:00. For more than two decades his popular and compelling stories appeared in the Times, where he was ultimately the lead food writer for the Sunday magazine and became the country's first food-focused Op-Ed columnist for a major news publication. Bittman has starred in four television series, including Showtime's Emmy-winning Years of Living Dangerously. He has written for nearly every major newspaper in the United States and many magazines and has spoken at dozens of universities and conferences; his 2007 TED talk has had more than a million views. In 2015 he was a distinguished fellow at the University of California, Berkeley; he is currently a fellow at the Union of Concerned Scientists. Throughout his career Bittman has strived for the same goal: to make food, in all its aspects, understandable. He can be found at markbittman.com, @bittman on Twitter, and @markbittman on Instagram.
 
Praise For…
---

"Bittman's latest tome cements his position as encyclopedist of modern cooking. Here he focuses on the process of baking, presenting more than 2,000 recipes. It surprises no one that he inventories cakes, cookies, pies, breads, and all manner of pastries, but Bittman delves deep into less expected crackers and their cousins, flatbreads. He also gives instructions for fillings and frostings to top those baked items. Other nonbaked recipes embrace frozen desserts, sauces, and even some candies. Bittman's gift is the ability to share myriad intelligent approaches to basic recipes, making one formula yield multiple results and encouraging readers to use their own imaginations. Tables and sidebars throughout offer equipment and technique tips. He even shows how to reformat standard recipes into vegan-friendly alternatives. In his quest to leave no baking question unanswered, Bittman advises how to repurpose burned cookies to ensure that even disaster can be salvaged. This compendium is the next best thing to having the master himself in the kitchen, and should be a staple for all public library collections."—Booklist (starred review)


"Prolific author and food writer Bittman (How to Cook Everything) brings the joy of baking to life in this comprehensive collection of 2,000 recipes demystifying the baking process. He explains its fundamentals, simple techniques, and foundation recipes that serve as springboards for "a number of easy twists" on from-the-oven homemade treats. Bittman is big on improvisational embellishments, adaptability, and recipe flexibility for every diet, and he creates useful "mix-and-match" charts for substitute ingredients, innovative variations, and add-ins. Sidebars contain advice on topics such as the advantages of milling nut flours at home and the importance of cooking with kids. There's the lowdown on gluten, 18 flour types, sweeteners, fats and oils, dairy options, and types of chocolate. Flowcharts, lexicons defining baking terminology, and recommendations for tools and core items to stock in a baker's pantry are also included. The marvels of eggs and every genre of pastry dough, especially puff pastry, are celebrated. This tour through the world of baking doesn't skimp; it has 15 pages on pancakes alone, charts showing ways to dress up cookies, and 10 varieties of fritters. A section on savory baking features cabbage strudel and corn-filled chicken chile cobbler. There's nothing half-baked about this impressive omnibus as Bittman delivers the promised "everything" in an epic homage to baking."—Publishers Weekly

"Since How To Cook Everything (1998) and How To Cook Everything Vegetarian (2007) are two of my cookbook staples, I was excited to receive How To Bake Everything: Simple Recipes for the Best Baking (Houghton Harcourt. Oct.), the latest release from food journalist and former New York Times columnist Mark Bittman. From bakeware basics to getting started with brownies, pies, or breads, this work will provide bakers at all levels with something new. My husband has already tried a pound cake recipe, plus some frostings to go along with it. Naturally, I plan to experiment with more recipes while watching PBS's The Great British Baking Show."—Library Journal

"Wow! Once again, Bittman shows that he's unafraid of the big. He manages to take on 'everything' to do with baking without losing track of how simple, fun, and delicious it should be."—Yotam Ottolenghi, author of Jerusalem, Plenty, and Nopi
 
"He's taught us how to cook everything before, and now it's time to bake. Leaving no question unanswered, here Mark Bittman has mastered all things baking, ensuring that everyone from novices to guys like me can whip, fold, and maybe even knead bakery-worthy breads and pastries from their home ovens."—Jim Lahey, founder/owner of Sullivan Street Bakery and author of My Bread
 
"How to Bake Everything is more than a recipe book, it is a constant companion to help navigate the complex vocabulary and techniques of the mysterious and joyous world of baking. Bittman dispels all of my previously perplexing baking phobias so that I can now truly create delicious and satisfying pies, loaves, and slumps with confidence for the first time in my long chef's life. You NEED this book! It will replace all baking cookbooks in my library and its pages are destined for the same stained and dogeared finish as How to Cook Everything!"—Mario Batali, chef, entrepreneur, and philanthropist
 
"The genius of Mark Bittman's approach is his eminent practicality and consistent ability to elucidate and unravel the hows and whys of good cooking. How to Bake Everything is a grand addition to any cook's repertoire—in simplicity one finds greatness."—Christopher Kimball, founder of Milk Street Kitchen

"Like all of Bittman's books, this is incredibly comprehensive — with over 2,000 recipes — and it makes for a perfect starter book for new bakers."—Grub Street

"The prolific Mark Bittman is back with How to Bake Everything. This time, he's taking on the cooking domain often viewed as too rigid and precise for the casual cook and Bittman-ized it, showing us what is negotiable and what isn't, focusing on simple core recipes with lots of variations, along with charts, lists, and illustrations. His aim is to turn us all into confident, creative bakers who can improvise, adapted, and customize, whether baking a tart, a cake, cookies, flat-bread, a crusty baguette or a flaky croissant." — Sybil Pratt, BookPage