We're following all official guidelines to keep ourselves healthy on the job, and as a result, shipping may be delayed.
You will receive an email from our web orders team confirming that your order has been processed.
We thank you for your support and your patience at this challenging time.
Congress at War: How Republican Reformers Fought the Civil War, Defied Lincoln, Ended Slavery, and Remade America (Hardcover)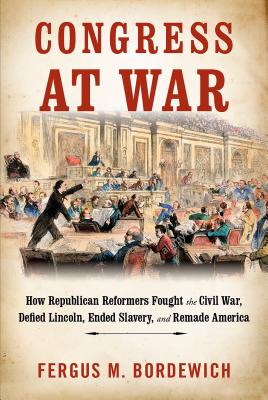 Description
---
The story of how Congress helped win the Civil War--a new perspective that puts the House and Senate, rather than Lincoln, at the center of the conflict.

This brilliantly argued new perspective on the Civil War overturns the popular conception that Abraham Lincoln single-handedly led the Union to victory and gives us a vivid account of the essential role Congress played in winning the war

Building a riveting narrative around four influential members of Congress--Thaddeus Stevens, Pitt Fessenden, Ben Wade, and the pro-slavery Clement Vallandigham--Fergus Bordewich shows us how a newly empowered Republican party shaped one of the most dynamic and consequential periods in American history. From reinventing the nation's financial system to pushing President Lincoln to emancipate the slaves to the planning for Reconstruction, Congress undertook drastic measures to defeat the Confederacy, in the process laying the foundation for a strong central government that came fully into being in the twentieth century. Brimming with drama and outsized characters, Congress at War is also one of the most original books about the Civil War to appear in years and will change the way we understand the conflict.
About the Author
---
FERGUS M. BORDEWICH is the author of seven previous nonfiction books, including The First Congress: How James Madison, George Washington, and a Group of Extraordinary Men Invented the Government; America's Great Debate: Henry Clay, Stephen A. Douglas, and the Compromise that Preserved the Union; Bound for Canaan: The Underground Railroad and the War for the Soul of America; and Washington: The Making of the American Capital. He lives in San Francisco with his wife, Jean Parvin Bordewich, who works in philanthropy and writes plays.
Praise For…
---
"Splendid... the seasoned historian Fergus Bordewich demonstrates that congressional Radicals succeeded not only in forcefully challenging slavery but also in strengthening federal support for infrastructure, public education and financial stability... In no area was the Republican Congress more active than in dealing with slavery. Mr. Bordewich skillfully describes the continuing congressional effort to abolish the institution... He registers the drum beat of emancipation." 
—David S. Reynolds, The Wall Street Journal

"Provocative... Bordewich is a master of the character sketch, summarizing complicated figures in a few swift phrases."
—Andrew Ferguson, The Atlantic

"The narrative is enlivened by amusing anecdotes and quotations not just from the four principals, but from a wide variety of Civil War figures including Frederick Douglass, Mary Boykin Chesnut, George Templeton Strong, and many others. Engagingly written, Congress at War will be welcomed by a popular audience as well as scholars."
—Nicole Etcheson, The Civil War Monitor

"Congress at War... sheds light on the efforts of both the Republican Congressmen and the abolitionists who galvanized the movement, making clear just how audacious and determined they were in attaining "the greatest moral victory the nation has yet achieved."
—Robert S. Erickson, The New Criterion

"President Lincoln is largely famous for three things: his iconic top hat, his tragic assassination at the theater, and ending slavery. But of course, history isn't that simple. In his new book, Fergus M. Bordewich examines the end of the Civil War with a particular emphasis on the roles the House and the Senate played. A must-read perspective for Civil War history buffs."
—Katie Yee, LitHub

"A page-turner... ma[kes] a complex story understandable and compelling."
—Don Ritchie, Historian Emeritus of the United States Senate

"Although the subject of the book is specific, its implications are universal... This is popular history of a high order—Bordewich has a terrific eye and ear for the details of his chosen time—and it thoroughly reflects the larger revisionism of our day."
—Adam Gopnik, The New Yorker

"Congress at War is an engaging analysis of Congress's role in the landmark legislation of the Civil War period... Commendable for telling a little-known story."
—Philip Leigh, The American Spectator

"Fergus Bordewich has done it again. This well-researched and pace setting narrative recovers the lasting achievements of the Civil War Congress through the lens of some of its most influential members. In this timely history of American democracy, Bordewich reminds us, there is room for its many champions." 
—Manisha Sinha, author of The Slave's Cause: A History of Abolition

"Compelling and vivid... This recounting of a pivotal time in our history is superb and deserves a wide readership."
—BookPage

"Bordewich contributes an entertaining, fresh perspective to our ever-evolving understanding and discussion of the Civil War. An important addition for both general readers of American history and scholars of the growing interpretations of Civil War studies."
—Library Journal

"Carefully documented... Bordewich offers a unique and colorful perspective on the Civil War, and regularly manages to make congressional minutiae entertaining. Readers seeking fresh insight into the era will be satisfied."
—Publisher's Weekly

"Abraham Lincoln led the nation, but Congress actually directed the Civil War; this fine history describes how... A skilled storyteller... Colorful... A riveting history of the Civil War that argues convincingly that Congress got it right."
—Kirkus Reviews (starred)