Micro-Resilience: Minor Shifts for Major Boosts in Focus, Drive, and Energy (Hardcover)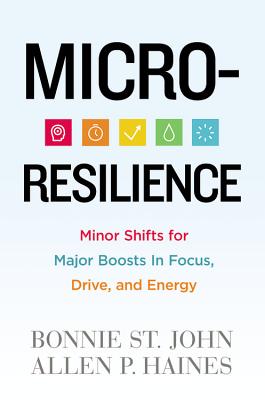 $22.00
Not On Our Shelves—Ships in 1-5 Days
Description
---


Learn powerful, science-based techniques to boost focus, drive and energy hour-by-hour throughout the day--every day.

As leadership consultants and executive trainers, Bonnie St. John and Allen P. Haines have heard the same complaints from clients for years; periodic burnout, lack of focus and low energy. So they dug into the latest research on neuroscience, psychology and physiology looking for big answers. Instead they found small answers; proof that small adjustments in daily routines, including thought patterns, food and drink, rest and movement can fight the forces that sap our energy and store focus and drive. They call these amazing efficient restorative techniques "micro-resilience." Thousands of men and women from all walks of life have already found effortless ways to incorporate these little changes into the busiest of schedules. Dozens of entertaining anecdotes from real people using micro-resilience demonstrate that when our brains fire faster, our energy increases and we can cope with almost any surprise, pressure or crisis.
About the Author
---
Amputee/Olympian/Rhodes Scholar
Bonnie St. John is a keynote speaker and leadership consultant who has guided individuals--from Fortune 500 C-Suites to start-up entrepreneurs--to their performance goals. Her broad media exposure includes
People, Forbes, Essence
,
The NY Times, Today, CNN, CBS News, PBS,
and
NPR
.
NBC News
called her, "One of the five most inspiring women in America."
Allen P. Haines served as CEO of several film industry marketing companies. He has advised and coached senior executives at Sony, Disney, IMG, NBC/Universal, and Fox.
Praise For…
---
"Micro-Resilience is a powerful book that will help you rethink the drive-until-you-drop approach to work. By reframing your thinking in the way St. John and Haines describe, you can learn to learn bounce back from setbacks and create a life of power and meaning."—Daniel H. Pink, author of Drive and To Sell is Human

"Micro-Resilience is a transformative program that doesn't force you to change, but instead enhances the resources you already have to give you much more focus and energy."—Walter Isaacson, author of STEVE JOBS, CEO Aspen Leadership Institute, former CEO of CNN and TIME Magazine

"Read + Heed the inspirational stories and insights shared in Micro-Resilience. Doing so will result in you having the courage to face adversity plus the confidence to manage, adapt and respond to whatever 'disruptions' life sends your way."—Kevin Carroll, author, speaker, change agent

"We may learn best from our failures. But our successes require that we reach down deep and muster the resilience to act on what we have learned. In Micro-Resilience, Bonnie St. John and Allen Haines not only inspire us that we can be better, they illuminate the path forward."—Gary Heil, founder of The Center for Innovative Leadership

"Bonnie St. John has focused on how to increase hour-by-hour resilience, which is critical in today's world. Her approach integrates science-based, intentional and immediate recoveries and has broad application to health care and other service industries that count on teams to deliver their best. Micro-Resilience is a great example of a 21st century solution to meet our 21st century challenges and opportunities."—Bernard J. Tyson, Chairman and CEO, Kaiser Permanente