Larue for Mayor: Letters from the Campaign (Hardcover)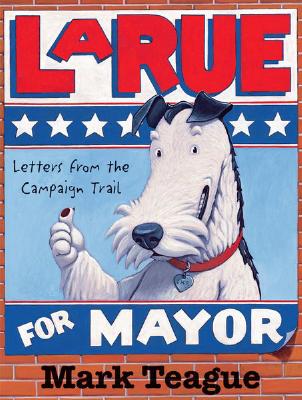 Description
---
Canine everyman Ike LaRue returns to take on the political machine in this gleeful tale, the third of Mark Teague's best selling, award winning DEAR MRS. LARUE series.
Ike finds his civil liberties at risk when Hugo Bugwort, the hard line mayoral candidate, promises to crack down on free-roaming, fun-loving dogs. As the anti-dog rhetoric escalates, Ike is compelled to join the political fray and run for mayor himself. Bugwort rethinks his pooch-policies when Ike selflessly helps rescue him after he collapses at a campaign rally. Told through letters to Mrs. LaRue and local newspaper accounts, Mark Teague delivers another excellent execution of split-screen visuals and uproarious escapades of the unforgettable Ike.
About the Author
---
Mark Teague is an award-winning children's book author and illustrator whose books include the NEW YORK TIMES bestselling How Do Dinosaurs... series, the LaRue series, FIREHOUSE!, FUNNY FARM, and many other humorous picture books. Mark lives in New York state with his wife and their two daughters.