We're following all official guidelines to keep ourselves healthy on the job, and as a result, shipping may be delayed.
You will receive an email from our web orders team confirming that your order has been processed.
We thank you for your support and your patience at this challenging time.
The Golden Hour (A Judd Ryker Novel #1) (Paperback)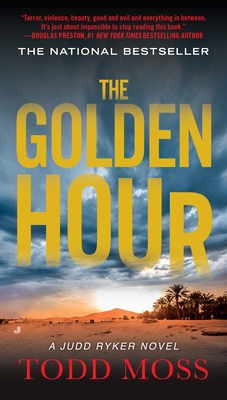 $9.99
Not On Our Shelves—Ships in 1-5 Days
Other Books in Series
This is book number 1 in the A Judd Ryker Novel series.
Description
---
THE NATIONAL BESTSELLER

A remarkable thriller debut of twenty-first-century espionage, by a former Deputy Assistant Secretary of State who "knows where all the bodies are buried—literally" (W. E. B. Griffin).

The Golden Hour: In international politics, the hundred hours following a coup, when there is still a chance that diplomacy, a secret back channel, military action—something—may reverse the chain of events.

As the director of the new State Department Crisis Reaction Unit, Judd Ryker gets a chance to prove that his theory of the Golden Hour actually works, when there's a coup in Mali. But in the real world, those hours include things he's never even imagined.

As Ryker races from Washington to Europe and across the Sahara Desert, he finds that personalities, loyalties—everything he thought he knew—begin to shift beneath his feet, and that friends and enemies come in many forms.
About the Author
---
Todd Moss is Chief Operating Officer and Senior Fellow at the Center for Global Development, a Washington, D.C. think tank, and an adjunct professor at Georgetown University. From 2007 to 2008, he served as Deputy Assistant Secretary of State, where he was responsible for diplomatic relations with sixteen West African countries.
 
Previously, Moss worked at the World Bank and the Economist Intelligence Unit and taught at the London School of Economics. The author of four nonfiction books on international affairs, he lives in Maryland.
Praise For…
---
Praise for The Golden Hour 

"A novel that makes your heart race . . . a thriller that weaves diplomacy and national security together with espionage, terrorism and Washington infighting."—Washington Post

"Outstanding debut . . . An intriguing cast of morally dubious characters, an intricately constructed plot, and a tantalizing cliffhanger make this thriller a page-turner of the highest order."—Publishers Weekly (starred review)

"Moss certainly has the politics and players down in this West Africa–set thriller. Readers of political and military action novels will appreciate his ultracurrent scenarios and characters, and fans of W.E.B. Griffin and Tom Clancy should know there is a new storyteller on the map."—Kirkus Reviews
 
"A former diplomat for West Africa, Moss knows of what he writes . . . Ranging from Washington to London to the Sahara Desert, the book effortlessly ups the tension while piling on surprises."—Library Journal

"A superbly realistic, high-powered thriller about a bloody coup in Africa and the desperate efforts of the State Department, CIA, and U.S. military to counter it. The novel introduces the unforgettable character of Judd Ryker, an international crisis fixer. It's all here: spectacular and exotic settings, terror, violence, beauty, good and evil and everything in between. It is just about impossible to stop reading this book."--Douglas Preston, #1 New York Times-bestselling author
 
"A tough, realistic, well-written tale of American diplomats scrambling to reverse an African coup amidst intense turf battles – State, Defense, White House, Congress, and CIA – and ever-shifting facts on the ground. Moss is an insider who knows how these things are really done – and how thin the line is between triumph and disaster."--John Sandford
 
"Written by an insider with intimate knowledge of Washington and Africa, The Golden Hour leaps out of today's headlines, a riveting thriller that mixes diplomacy, terrorism, and international intrigue at the highest levels in equal measures.'--Francis Fukuyama, Author of The End of History and the Last Man
 
"An extraordinary international thriller debut from a writer who has lived and breathed every inch of it. Moss knows where all the bodies are buried – literally."--W.E.B. Griffin
 
"In the real world of high-level international intrigue, those who know usually don't tell much and those who tell usually don't know much. Todd Moss is the exception. He combines an insider's knowledge with the storytelling skills of a master. Just read a few pages – you won't be able to stop."--Moises Naim, Author of The End of Power and former editor in chief of Foreign Policy magazine
 
"The Golden Hour combines the virtues of a spy-and-diplomacy thriller with a realistic inside look at the workings of America's worldwide crisis-response system. The next time you hear about coups or turmoil in a troubled corner of the world, and the debate about whether and how the United States should intervene, think of the characters in this book. Tom Clancy used fiction to illuminate the world of the military; Todd Moss is using it to reveal the world of diplomacy."--James Fallows, national correspondent, The Atlantic
 
"I spent years watching national security crises from the inside, and Todd Moss has got it scarily right. The Golden Hour is a novel of extraordinary thrills – and extraordinary truth."--Tony Fratto, Former White House Deputy Press Secretary to President George W. Bush

"Terror, violence, beauty, good and evil and everything in between. It's just about impossible to stop reading this book."—Douglas Preston, #1 New York Times bestselling author

"A tough, realistic, well-written tale…Moss is an insider who knows how these things are really done—and how thin the line is between triumph and disaster."—John Sandford, #1 New York Times bestselling author

"An extraordinary international thriller debut."—W.E.B. Griffin, #1 Wall Street Journal and New York Times bestselling author

"A novel that makes your heart race."—The Washington Post

"Read this novel as a window into politics, power and practice at the U.S. Department of State and you'll find yourself in the middle of troublesome scenes that ring all too true."—Alan Cheuse, Dallas Morning News

"Outstanding debut…An intriguing cast of morally dubious characters, an intricately constructed plot, and a tantalizing cliffhanger make this thriller a page-turner of the highest order."—Publishers Weekly (starred review)