HelloFlo: The Guide, Period.: The Everything Puberty Book for the Modern Girl (Hardcover)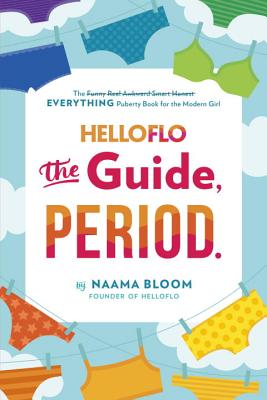 Description
---
"Full of practical advice, helpful explanations, and messages of encouragement…Period." —Parents.com

"Make[s] girls feel both normal and empowered.... If you have a girl nearing puberty in your life, I recommend grabbing a copy for her." —Heidi Stevens for The Chicago Tribune

From the founder of HelloFlo, a modern and insightful guide to periods and puberty for a new generation
     
When will I get boobs?
Does wearing a tampon hurt?
What's the deal with menstrual cups?
Seriously, when will I get boobs?

Honest, funny, and unafraid of the messy, real-life facts about a girl's changing body, this is definitely not your mother's puberty book. HelloFlo founder Naama Bloom's mission is to create informed, empowered young women who are unafraid to ask questions and make the best choices for themselves and their bodies. A celebration of women's bodies and all the confusing, uncomfortable, silly, transformative, and powerful changes that occur during puberty.

This full-color book—written by HelloFlo founder, Naama Bloom, and journalist Glynnis MacNicol—features bright, diverse, approachable illustrations and infographics, doctor-vetted information, and personal testimonials from real girls and women.
About the Author
---
Naama Bloom is the founder of HelloFlo.com, a modern-day health site for girls and women. Her mission for HelloFlo was to create a place where women and girls could learn about their bodies in an open and honest environment without any shame and with a healthy dose of humor. HelloFlo's first two videos, "The Camp Gyno" and "First Moon Party," have been viewed over 50 million times and show girls that while puberty can be awkward at times, it can also be fun and empowering. She lives in Brooklyn, NY, with her husband and two children. HelloFlo:The Guide, Period. is her first book.
Praise For…
---
"Make[s] girls feel both normal and empowered.... If you have a girl nearing puberty in your life, I recommend grabbing a copy for her." — Heidi Stevens for The Chicago Tribune

"An honest, funny, and unafraid look at a girl's changing body." — Parents.com

"An energetic, empowering resource." — Booklist

"A compassionate guide to the physical, psychological, and emotional dimensions of puberty." —Publishers Weekly
 
"Helpful, clear advice . . . just the right tone." —Kirkus Reviews