We're following all official guidelines to keep ourselves healthy on the job, and as a result, shipping may be delayed.
You will receive an email from our web orders team confirming that your order has been processed.
We thank you for your support and your patience at this challenging time.
Ghosts of Havana (A Judd Ryker Novel #3) (Hardcover)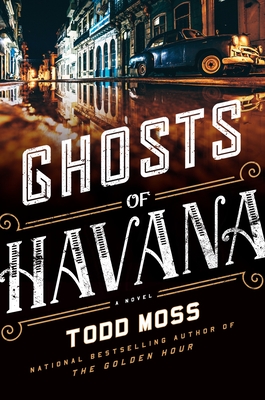 Special Order—Subject to Availability
Other Books in Series
This is book number 3 in the A Judd Ryker Novel series.
Description
---
A timely international thriller by the former deputy assistant secretary of state and bestselling author.
 
When four American sport fishermen stray into Cuban waters and are promptly arrested by Castro's navy, State Department crisis manager Judd Ryker finds himself called in to negotiate their release. But the more Ryker digs in to the situation, the more things he discovers that just don't seem to fit, especially now, with relations between the United States and Cuba supposedly thawing.  Who are these men really, and what were they doing there? What is Ryker's actual mission, and what is his own government hiding from him?
 
Some people want the new initiative to succeed. Others want to stop it at any cost. Still others see it as an opportunity for something much more radical. The common factor for every one of them: the time to act is right this minute.
 
The ghosts of Havana are walking, and Ryker is caught in the middle of them all.
About the Author
---
Todd Moss is COO and senior fellow at the Washington think tank Center for Global Development, and an adjunct professor at Georgetown University. In 2007–2008, he served as deputy assistant secretary of state in the Bureau of African Affairs, where he was responsible for diplomatic relations with sixteen West African countries. Previously, Todd worked at the World Bank and the Economist Intelligence Unit, and taught at the London School of Economics. He is also the author of Minute Zero and The Golden Hour. Moss lives in Maryland.
Praise For…
---
Praise for Ghosts of Havana

"Another good read from Moss…fast-paced and fun. [Ghosts of Havana] benefits from [Moss's] previous experience in government and from his clear, unassuming writing." — The Huffington Post

"Timely… Moss, a former deputy assistant secretary of state, does a good job depicting the tactics that our intelligence agencies might employ in negotiating with a foreign power… most of the action centers on the highly capable Jessica…" — Publishers Weekly

"Former government official Moss offers a lively, informed, and timely political novel about Cuba's future and America's role in it."  — Kirkus

"Todd Moss is reinventing the diplomatic thriller, much as John Grisham reinvented the legal thriller. Moss gets the details right." — Mary Louise Kelly, NPR National Security Correspondent

"A taut international thriller exploiting current events and showing how thin the line can be between success and disaster" — Huffington Post
 
"Moss, a former deputy assistant secretary of state in the Bureau of African Affairs, writes a book full of historical tidbits and plausible scenarios. It is a fast-paced, engaging read—and very topical given recent events between the two countries."— Reviewing the Evidence


Praise for Minute Zero
"Moss draws from his experience to produce a tense, fast-paced, utterly convincing picture of chaos in the making. A brilliantly orchestrated realpolitik thriller. Moss's second effort is as instructive as it is thrilling." —Kirkus Reviews (starred review)
 
"A fine second novel of diplomatic intrigue. The action moves relentlessly, shifting from Harare and Washington, D.C., and among several well-drawn characters. A former U.S. diplomat in Africa, Moss maintains a high level of authenticity throughout." —Publishers Weekly
 
"Turf wars, high stakes diplomacy, conspiracy, murder, and more. An exciting read that readers will not be able to put down easily. Moss is a gifted storyteller [who] knows how to craft a tale that's intriguing and dramatic, yet also believable." —The Huffington Post
 
"The tale feels authentic, and its focus on insider manipulation of international events, rather than bullets, will attract fans of realistic political fiction." —Booklist
 
"Moss draws on his real-world experiences inside the U.S. government to bring to life the exhilaration and frustrations of modern day foreign policy-making." —Suspense Magazine
 
"A thoroughly believable and politically charged thriller. Moss directs the events like a maestro in an orchestra, taking readers across the globe from the U.S. to Zimbabwe to Taiwan and more, in short, suspense-filled chapters." —Killer Nashville Magazine
 
"Judd Ryker may be a dashing fictional character, but the world he inhabits is very real. Todd Moss knows Africa, and Minute Zero nails today's Zimbabwe perfectly. Robert Mugabe just might be displeased." —Ambassador (ret.) Mark Bellamy, former U.S. Ambassador to Kenya