Little Sleepyhead (Hardcover)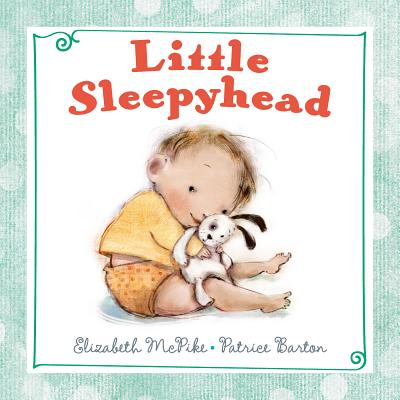 $16.99
Special Order—Subject to Availability
Description
---
Baby's bedtime is more cuddly than ever! 

Tired little eyes,
ready now for bed,

Tired little everything,
precious sleepyhead.
                                                                                                                                                      
By the end of a busy day, little knees are tired from crawling, little arms are tired from stretching—even little lips are tired from blowing kisses. But with the help of gentle verse, and art as sweet as a bedtime lullaby, tired little eyes will quickly give way to sleep.

Shhh . . .
About the Author
---
Elizabeth McPike once had three little sleepyheads. Now they are grown and she has no idea when they go to bed, but suspects it is late. A writer, editor, and late-afternoon napper, she lives in Washington, DC. On a perfect day, she is likely to be found in her garden or in the remainder section of her nearby bookstore or sitting in a quiet pew by a stained-glass window.

Patrice Barton created her first painting at the age of three, in Crisco on the dining room wall. She has illustrated many picture books, including Mine! by Shutta Crum and Sweet Moon Baby by Karen Henry Clark. Patrice lives in Cedar Park, Texas.
Praise For…
---
"McPike's rhyming tale flows as smoothly as a lullaby, describing a child's body parts, from ' tired little toes' to 'tired little everything' as a variety of 'precious little sleepyheads' are prepared for bed. . . . Barton's illustrations show a variety of babies, siblings, and caregivers. . . . An excellent choice for bedtime-themed programs or one-on-one nighttime routines." --School Library Journal
 
"Try holding still while reading 'Tired little arms, stretching up so high, // Tired little hands, waving bye, bye, bye.' Acting out these lines and, additionally, 'Tired little toes, wiggling one to ten,' for example, will promote language development and prove great fun for babies and young toddlers to mimic. . . . In the crowded field of bedtime books, this is a very sweet nighttime send-off for the littlest yawners." --Kirkus Reviews

"Engaging . . . The text is just long enough to tie the ideas together nicely while keeping the forward motion of a picture book designed for the youngest children. In the winsome illustrations, a racially diverse group of babies engages in activities such as crawling, reaching for bubbles, and waving to a bird. . . . Each doublepage spread shows a different child interacting with a parent, grandparent, sibling, or other caregiver (even a family dog)." --Booklist