We're following all official guidelines to keep ourselves healthy on the job, and as a result, shipping may be delayed.
You will receive an email from our web orders team confirming that your order has been processed.
We thank you for your support and your patience at this challenging time.
Practical Equality: Forging Justice in a Divided Nation (Hardcover)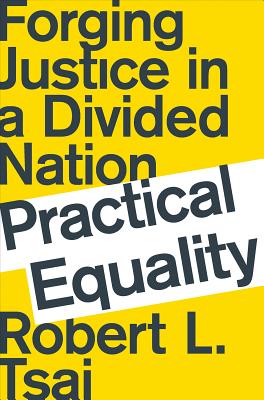 Description
---
A path-breaking account of how Americans have used innovative legal measures to overcome injustice—and an indispensable guide to pursuing equality in our time.
Equality is easy to grasp in theory but often hard to achieve in reality. In this accessible and wide-ranging work, American University law professor Robert L. Tsai offers a stirring account of how legal ideas that aren't necessarily about equality at all—ensuring fair play, behaving reasonably, avoiding cruelty, and protecting free speech—have often been used to overcome resistance to justice and remain vital today.
Practical Equality is an original and compelling book on the intersection of law and society. Tsai, a leading expert on constitutional law who has written widely in the popular press, traces challenges to equality throughout American history: from the oppression of emancipated slaves after the Civil War to the internment of Japanese Americans during World War II to President Trump's ban on Muslim travelers. He applies lessons from these and other past struggles to such pressing contemporary issues as the rights of sexual minorities and the homeless, racism in the criminal justice system, police brutality, voting restrictions, oppressive measures against migrants, and more.
Deeply researched and well argued, Practical Equality offers a sense of optimism and a guide to pursuing equality for activists, lawyers, public officials, and concerned citizens.
About the Author
---
Robert L. Tsai is a professor at American University. He is the author of America's Forgotten Constitutions and his essays have appeared in the Boston Globe, the Washington Post, the Boston Review, and Slate. He lives in Washington, DC, with his family.
Praise For…
---
A timely review of America's pursuit of equality and pragmatic solutions to better achieve it.

Tsai writes with a passion about the moral necessity of eliminating the damage inequality does. This framework will resonate with readers interested in equality and advocacy.

Tsai's clear writing and questioning approach make this ultimately both accessible and engaging…Deeply thought-provoking as the topic of egalitarianism remains highly contested in today's political discourse.

Despite raging controversies, it still remains possible for the Supreme Court to bring Americans together rather than drive them further apart. Robert Tsai brilliantly describes great Court decisions of the past which engaged in such bridge-building exercises, setting precedents for future Justices to follow if they hope to sustain broad public support.
— Bruce Ackerman, author of We the People

In this at once provocative and sensible book, Robert Tsai shows us that in the never-ending struggle for equality, progress is sometimes more effectively achieved indirectly.
— David Cole, National Legal Director, ACLU, and author of Engines of Liberty

Egalitarians take notice! Our interpretations of the Constitution's guarantee of equality are losing ground on every front. Robert Tsai develops his argument via a great array of well-told historical and contemporary cases, and he is deeply alive to the perils as well as the promise of his proposal.
— William E. Forbath, coauthor of The Anti-Oligarchy Constitution

How do you fight for social change during periods of reaction or when structures of injustice are deeply entrenched? Robert Tsai's Practical Equality beautifully wrestles with this dilemma and with the everyday political challenge of defending the principle of equality under less than ideal circumstances. The result is a work of striking political and legal imagination, an essential book with critical insights for activists, scholars, and lawyers.

— Aziz Rana, author of The Two Faces of American Freedom

Recognizing that the efforts to achieve full equality in an imperfect and often deeply flawed society are invariably met with severe resistance, Robert Tsai urges that those striving for equality must be strategic, determined, resilient, and often patient in order to achieve their goals. The struggle is worth it, but as history teaches, the battle cannot be won in a day. Tsai offers important lessons from history about how to move forward.
— Geoffrey Stone, author of Sex and the Constitution