To Fight Against This Age: On Fascism and Humanism (Hardcover)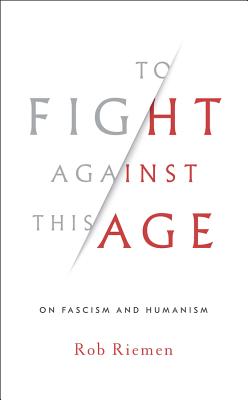 $19.95
Not On Our Shelves—Ships in 1-5 Days
Description
---
"We are sleepwalking into catastrophe; Riemen wants to wake us up and he does with passion, wisdom, and eloquence." —Simon Schama
An international bestseller, To Fight Against This Age consists of two beautifully written, cogent, and urgent essays about the rise of fascism and the ways in which we can combat it.
In "The Eternal Return of Fascism," Rob Riemen explores the theoretical weakness of fascism, which depends on a politics of resentment, the incitement of anger and fear, xenophobia, the need for scapegoats, and its hatred of the life of the mind. He draws on history and philosophy as well as the essays and novels of Thomas Mann and Albert Camus to explain the global resurgence of fascism, often disguised by its false promises of ushering in freedom and greatness.
Riemen's own response to what he sees as the spiritual crisis of our age is articulated in "The Return of Europa," a moving story about the meaning of European humanism with its universal values of truth, beauty, justice, and love for life—values that are the origin and basis of a democratic civilization.
To Fight Against This Age is as timely as it is timeless, to be read by those who want to understand and change the world in which they live.
About the Author
---
Rob Riemen is the author of Nobility of Spirit: A Forgotten Ideal (2008), which has been translated into eighteen languages. A writer and cultural philosopher, he is the founder of the Nexus Institute, an international center devoted to intellectual reflection and to inspiring Western cultural and philosophical debate. He lives in the Netherlands.
Praise For…
---
Riemen's dire warnings cannot help appearing prescient. American readers who are rightly worried about similarly distressing developments in the United States will feel fortified by the publication of To Fight Against This Age…establishes Riemen as an erudite, well-meaning and inspiring ally in the struggle to combat anti-liberal political trends.

— Damon Linker

I am on Riemen's side....I find that his case for considering today's developments 'fascist' is, in fact, useful in thinking about responses.
— James Fallows

This is a book for people who want the West to regain its moral high ground, and who want to think hard about how to help achieve that.
— Anne Applebaum, author of Twilight of Democracy: The Seductive Lure of Authoritarianism

This is a bold, courageous, original, and provocative meditation. It challenges many trendy diagnoses of the present crisis of western civilization by offering some very surprising and unexpected perspectives.
— Amos Oz

Rob Riemen is one of the great modern champions of the Enlightenment and the best of its legacy.
— Sean Wilentz

Piercing....[Riemen's] erudite essays add an enriching element to the ongoing conversation of a contentious political moment.

From Thomas Mann's warning, 'If ever Fascism should come to America, it will come in the name of freedom,' to an elderly Czech poet's cautious optimism about the future of Europe, these essays make a passionate case for values that are not so much ancient as ageless.
— Ingrid Rowland

An extremely relevant, urgent call to revive true democracy and acknowledge the perils of fascist ideology.