We're following all official guidelines to keep ourselves healthy on the job, and as a result, shipping may be delayed.
You will receive an email from our web orders team confirming that your order has been processed.
We thank you for your support and your patience at this challenging time.
Midwinter Break: A Novel (Hardcover)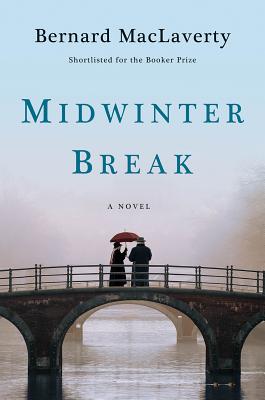 Out of Print in This Format
Description
---
For readers of Colm Toíbín, a moving portrait of a marriage in crisis and a couple's search for salvation.
Sixteen years on from his last novel, Bernard MacLaverty reminds us why he is regarded as one of the greatest living Irish writers. A retired couple, Gerry and Stella Gilmore, fly from their home in Scotland to Amsterdam for a long weekend—a holiday to refresh the senses, to do some sightseeing, and generally to take stock of what remains of their lives. Their relationship seems safe, easy, familiar. But over the course of the four days we discover the deep uncertainties that exist between them.
Gerry, once an architect, is forgetful and set in his ways. Stella is tired of his lifestyle, worried about their marriage, and angry at his constant undermining of her religious faith. Things are not helped by memories that have begun to resurface of a troubled time in their native Ireland. As their midwinter break comes to an end, we understand how far apart they are—and can only watch as they struggle to save themselves.
MacLaverty is a master storyteller, and Midwinter Break is the essential MacLaverty novel: accurate, compassionate observation; effortlessly elegant writing; and a tender, intimate, heartrending story. Yet it is also a profound examination of human love and how we live together, a chamber piece of real resonance and power. Forty years after his first book, MacLaverty has written his masterpiece.
About the Author
---
Bernard MacLaverty lives in Glasgow, Scotland. His books include Lamb, Cal, and Grace Notes, which was shortlisted for the Man Booker Prize and won the Saltire Scottish Book of the Year Award.
Praise For…
---
Sure-handed and captivating. . . . Contemplating the mysteries that lie at the heart of every marriage, Stella thinks, 'Nobody could peer into a relationship—even for a day or two—and come away with the truth.' It's a measure of MacLaverty's achievement here that he has done exactly that.

Beautifully observed and emotionally resonant, this is a novel to linger over.

Rich and precisely written…In this finely detailed rendering of a couple's virtues and foibles, there are numerous outstanding, jewel-like scenes…[T]his is a satisfying, thoroughly enjoyable, and even at times tongue-clucking read.

A quietly powerful elegy that chides two finely-wrought characters for not being capable of defining what they value most in life…exquisite.

[MacLaverty] deploy[s] a masterful palette of details and allusions…A closely observed, deeply sympathetic rendering of a relationship and the fissures that threaten to wreck it.

Midwinter Break is a work of extraordinary emotional precision and sympathy, about coming to terms—to an honest reckoning—with love and the loss of love, with memory and pain. Full of scenes that are rendered with exquisite accuracy and care, allowing the most detailed physical descriptions to be placed against the possibility of a rich spiritual life, this is a novel of high ambition by an artist at the height of his powers.

— Colm Tóibín, author of The Master and Brooklyn

MacLaverty is a sweetly astute writer, a master of fine detail, compassing the quotidian, the intimate, and the sacred. Midwinter Break shows us how ordinary and immense love can be.

— Anne Enright, author of The Green Road

MacLaverty's prose is deceptively simple and rewardingly straightforward and efficient. But what he writes about in this much anticipated novel—the resilience and stress lines of human love experienced over much time—is anything but simple and straightforward. It's the stuff of life.
— Richard Ford, author of The Sportswriter and Independence Day