We're following all official guidelines to keep ourselves healthy on the job, and as a result, shipping may be delayed.
You will receive an email from our web orders team confirming that your order has been processed.
We thank you for your support and your patience at this challenging time.
Wit's End: What Wit Is, How It Works, and Why We Need It (Paperback)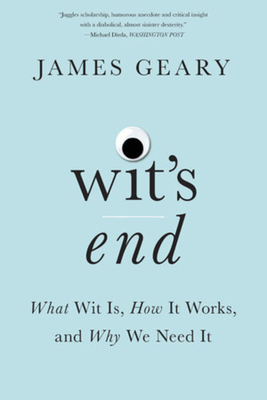 Description
---
Entertaining, illuminating, and entirely unique, Wit's End "convey[s] the power of wit to refresh the mind" (Henry Hitchings, Wall Street Journal).
In "this inventive and playful book" (Tom Beer, Newsday), James Geary explores every facet of wittiness, from its role in innovation to why puns are the highest form of wit. Adopting a different style for each chapter—from dramatic dialogue to sermon, heroic couplets to a barroom monologue—Geary embodies wit in all its forms. Wit's End agilely balances psychology, folktale, visual art, and literary history with lighthearted humor and acute insight, demonstrating that wit and wisdom are really the same thing.
About the Author
---
James Geary is the author of four previous books, including the New York Times bestseller The World in a Phrase, and is the deputy curator at Harvard University's Nieman Foundation for Journalism. A sought-after speaker and avid juggler, he lives near Boston, Massachusetts.
Praise For…
---
Juggles scholarship, humorous anecdote and critical insight with a diabolical, almost sinister dexterity.
— Michael Dirda

Geary is a keen storyteller, promiscuous with quotes and figures. One could do worse at a cocktail party than simply opening his book at random and reading aloud.
— Katy Waldman

[Geary takes] a quirky approach for a quirky topic.

Wit's End is delicious. James Geary has managed to produce a witty book about wit that steers an elegant path between waggishness and wisdom.


[James Geary] raps, rhymes, puns, quips, jives, and dialogues his way through this rich history and analysis.… The end result is an extended dance remix on the art of the quip that is both humorous and instructive.
— Ephrat Livni

Readers roaring with laughter at outrageous puns one moment find themselves carefully assessing psychological studies the next.… An exhilarating romp, entertaining and enlightening.

[Wit's End is] an entertaining exploration of how intellectual dexterity manifests itself in both verbal and visual form.… [Geary] shows here that he's fully equal to the task, enhancing our appreciation of how true wit can both amuse and enlighten.

— Harvey Freedenberg

A playful book that celebrates all forms of wit… 'To see clearly, look askance,' Geary advises. He heeds his own advice to entertaining effect.

I have been reading Wit's End in juxtaposition to rereading and again writing about James Joyce's Ulysses. Geary prompts me to think that Joyce's title could have been No End to Wit. Goethe wrote an essay called "No End to Shakespeare." There seems to be no end to James Geary's versatility.

— Harold Bloom

Comedy is famously impossible to describe without destroying it, so James Geary—in this entertaining and informative and funny book—makes a very smart and effective move: he embodies the many different forms that wit takes, from poems to jokes to jive to rap. In a time of constant, unintentional humor, here is a purposeful and valuable reminder that sometimes it's on purpose and sometimes it's very nearly lifesaving.
— David Shields, best-selling author of Reality Hunger and The Thing About Life Is One Day You'll Be Dead