Meg, Jo, Beth, Amy: The Story of Little Women and Why It Still Matters (Paperback)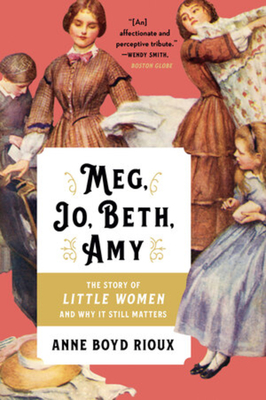 $16.95
In Stock—Click for Locations
Description
---
"[An] affectionate and perceptive tribute."—Wendy Smith, Boston Globe
In Meg, Jo, Beth, Amy, Anne Boyd Rioux brings a fresh and engaging look at the circumstances leading Louisa May Alcott to write Little Women and why this beloved story of family and community ties set in the Civil War has resonated with audiences across time.
About the Author
---
Anne Boyd Rioux, a professor at the University of New Orleans, is the author of Constance Fenimore Woolson: Portrait of a Lady Novelist and Meg, Jo, Beth, Amy: The Story of Little Women and Why It Still Matters, and the editor of Woolson's Miss Grief and Other Stories. Rioux has received two National Endowment for the Humanities Awards, one for public scholarship, and lives in New Orleans.
Praise For…
---
Lively and informative…Meg, Jo, Beth, Amy does what—ideally—books about books can do: I've taken Little Women down from my shelf and put it on top of the books I plan to read.

— Francine Prose

Highly entertaining…[Rioux] paints a compelling portrait of Alcott, giving us fascinating insights into the creation of Little Women.

— Charlotte Gordon

An adroit consideration of Alcott and her milieu.… Thoughtful.
— Meghan Cox Gurdon

A love letter written not by a smitten youngster naïve to her beloved's drawbacks but by a mature adult who can recognize complexity and nuance.
— Ilana Masad

This delightful look at a great American classic…tells the book's history, explores its abiding appeal, and considers its influence on generations of readers and writers since. It goes without saying that lovers of that book will adore this book. But even those who haven't read Little Women will enjoy learning about the literary history behind it.


Highly companionable and illuminating.
— Mark Rozzo

Engrossing.

With impeccable research and genuine affection, [Rioux] charts the history of the beloved…novel.
— Connie Ogle

Rioux considers the cultural impact and enduring popularity of Louisa May Alcott's American Civil War-set novel Little Women, a runaway success since it was first published 150 years ago.


Straddling the line between entertainment and nuanced complexity, this fascinating look at Alcott's novel is not to be missed.