Whereas: Poems (Paperback)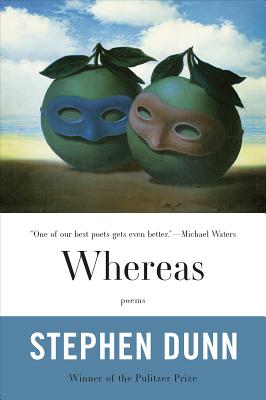 $15.95
In Stock—Click for Locations
Description
---
In wise and masterful poems, Stephen Dunn "reveals a deep understanding of human longing and the desire to become more than what we are" (Washington Post).
Incisively capturing the oddities of our logic and the whimsies of our reason, the poems in Whereas show there is always another side to a story. With graceful rhythm and equal parts humor and seriousness, Pulitzer Prize winner Stephen Dunn examines the difficulties of telling the truth, and the fictions with which we choose to live. Finding beauty in the ordinary, this collection considers the superstition and sophistry embedded in everyday life, allowing room for more rethinking, reflection, revision, prayer, and magic in the world.
About the Author
---
Stephen Dunn is the author of nineteen poetry collections, including the Pulitzer Prize–winning Different Hours, and was a finalist for the National Book Critics Circle Award and the recipient of an Academy Award for Literature. His poems have appeared in The New Yorker, Atlantic, and American Poetry Review, among many other publications. A distinguished professor emeritus at Richard Stockton University, he lives in Frostburg, Maryland.
Praise For…
---
One of our best poets gets even better.
— Michael Waters

There's a deep and reliable honesty that drives these poems, a kind of courageous revelation.
— Robert Wrigley

[Dunn's] poetry continues to overturn expectations.… Wit resides in such overturning, as does wisdom.

This collection is one in which we journey through the text and… come to the other side renewed.

Everyday experiences? become a springboard for deeper reflection about what it means to be alive and how people alter their perceptions of the world and themselves over time.… The best writing here reveals a deep understanding of human longing and the desire to become more than what we are.

A bold and elegant conversation with wisdom itself.… A complex guidebook to contemporary life. These poems explore life's contradictions and mysteries while creating light from the dark spaces of death and doubt.… Triumphant.

Dunn takes aim at everything, especially our search for meaning in a culture of post-truth and too much news, some of it skewed. He does so with humor, wit, and a dose of gravitas, grasping detail and nuance.… A timely and necessary addition.

These poems deliver wisdom that is disquieting and surprising, reminding readers of language's frailties as well as our own.

Stephen Dunn has long known how to begin a poem so it sounds like part of a conversation, how to move the poem along by following its own curiosities, and how to deliver just enough wisdom at the end. He's still doing it all right here, better than ever, in this fresh new collection.
— Billy Collins