Do Not Say We Have Nothing: A Novel (Paperback)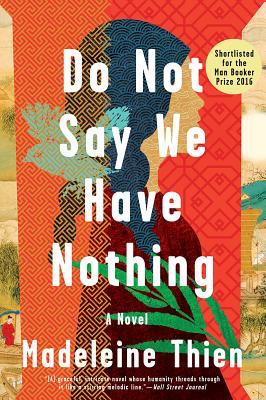 $16.95

In Stock—Click for Locations
Description
---
Winner of the Scotiabank Giller Prize and the Governor General's Literary Award // Finalist for the Man Booker Prize and the Baileys Women's Prize for Fiction



"A powerfully expansive novel…Thien writes with the mastery of a conductor." —New York Times Book Review
"In a single year, my father left us twice. The first time, to end his marriage, and the second, when he took his own life. I was ten years old."
Master storyteller Madeleine Thien takes us inside an extended family in China, showing us the lives of two successive generations—those who lived through Mao's Cultural Revolution and their children, who became the students protesting in Tiananmen Square. At the center of this epic story are two young women, Marie and Ai-Ming. Through their relationship Marie strives to piece together the tale of her fractured family in present-day Vancouver, seeking answers in the fragile layers of their collective story. Her quest will unveil how Kai, her enigmatic father, a talented pianist, and Ai-Ming's father, the shy and brilliant composer, Sparrow, along with the violin prodigy Zhuli were forced to reimagine their artistic and private selves during China's political campaigns and how their fates reverberate through the years with lasting consequences.
With maturity and sophistication, humor and beauty, Thien has crafted a novel that is at once intimate and grandly political, rooted in the details of life inside China yet transcendent in its universality.
About the Author
---
Madeleine Thien is the author of three novels and a collection of stories, and her work has been translated into twenty-five languages. Her most recent novel, Do Not Say We Have Nothing, was shortlisted for the 2016 Man Booker Prize. She lives in Montreal, Canada.
Praise For…
---
This is a moving and extraordinary evocation of the 20th-century tragedy of China, and deserves to cement Thien's reputation as an important and compelling writer.
— Guardian

Extraordinary…It recalls the panoramic scale and domestic minutiae of the great 19th-century Russian writers…[A] highly suspenseful drama…as courageous and principled as resistance itself.
— Financial Times

[A] graceful, intricate novel whose humanity threads through it like a stirring melodic line.
— Sam Sacks - The Wall Street Journal

A magnificent epic of Chinese history, richly detailed and beautifully written.
— The Times

Powerful.
— The New Yorker

A deeply profound and moving tale where music, mathematics and family history are beautifully woven together in a poetic story…Full of wisdom and complexity, comedy and beauty, Thien has delivered a novel that is both hugely political and severe, but at the same time delicate and intimate, rooted in the tumultuous history of China.
— Herald

Music is at the center of this ambitious saga of totalitarian China, where classical musicians were persecuted during the Maoist Cultural Revolution…Thien's intricate narrative slowly lays bare the lives of three musical friends living through a totalitarian era when serious music had to survive driven underground, like forbidden love.
— Sunday Times

A splendid writer.
— Alice Munro

Imagination, Nabokov says, is a form of memory. Do Not Say We Have Nothing is a perfect example of how a writer's imagination keeps alive the memory of a country's and its people's past when the country itself tries to erase the history. With insight and compassion, Madeleine Thien presents a compelling tale of China of twentieth century.

— Yiyun Li, author of The Vagrants