We're following all official guidelines to keep ourselves healthy on the job, and as a result, shipping may be delayed.
You will receive an email from our web orders team confirming that your order has been processed.
We thank you for your support and your patience at this challenging time.
Italian Ways: On and Off the Rails from Milan to Palermo (Paperback)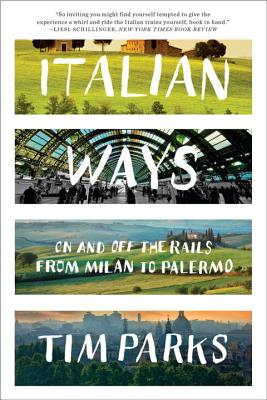 Description
---
"So inviting you might find yourself tempted to give the experience a whirl and ride the Italian trains yourself, book in hand."—Liesl Schillinger, New York Times Book Review
Tim Parks's books on Italy have been hailed as "so vivid, so packed with delectable details, [they] serve as a more than decent substitute for the real thing" (
Los Angeles Times Book Review
). Now, in his first Italian travelogue in a decade, he delivers a charming and funny portrait of Italian ways by riding its trains from Verona to Milan, Rome to Palermo, and right down to the heel of Italy.
Parks begins as any traveler might: "A train is a train is a train, isn't it?" But soon he turns his novelist's eye to the details, and as he journeys through majestic Milano Centrale station or on the newest high-speed rail line, he delivers a uniquely insightful portrait of Italy. Through memorable encounters with ordinary Italians—conductors and ticket collectors, priests and prostitutes, scholars and lovers, gypsies and immigrants—Parks captures what makes Italian life distinctive: an obsession with speed but an acceptance of slower, older ways; a blind eye toward brutal architecture amid grand monuments; and an undying love of a good argument and the perfect cappuccino.
Italian Ways also explores how trains helped build Italy and how their development reflects Italians' sense of themselves from Garibaldi to Mussolini to Berlusconi and beyond. Most of all, Italian Ways is an entertaining attempt to capture the essence of modern Italy. As Parks writes, "To see the country by train is to consider the crux of the essential Italian dilemma: Is Italy part of the modern world, or not?"
About the Author
---
Tim Parks was born in Manchester, England, in 1954, grew up in London, and has lived in Italy since 1981. His novels include Europa, which was shortlisted for the Booker Prize, and he is the author of several nonfiction accounts of life in Italy, including Italian Neighbors and An Italian Education. During his years in Italy, Parks has translated works by Italo Calvino, Roberto Calasso, Alberto Moravia, and Machiavelli. He is a regular contributor to the New York Review of Books, for which he blogs.
Praise For…
---
This mix of piercing social observation and undying affection for Italy is classic Parks.
— Rachel Donadio

[A] treat equivalent to a ride on the Orient Express… Italian Ways is no Ferrari on rails but instead something much better: a slow train so thoughtfully appointed that one never thinks to look out the window or care about the destination.

— Ben Downing

Fascinating [and] droll…. Parks [is] perhaps the most faithful foreign inamorato Italy has ever had.
— Andrea Lee

Parks really shines. He gives us a country that is as frustrating
as it is endlessly fascinating.
— Marjorie Kehe

[Parks is] a perfect guide—an outsider, but one with a deep familiarity and respect (plus a dash of exasperated skepticism)—to the country's celebrated eccentricities. Parks has a charming voice and a novelist's eye.
— Chloë Schama

Incisive [and] hilarious.
— Alexander Aciman

Relaxed, humorous, meandering [and] charming.
— Brigitte Frase

A movable feast to say the least.
— Richard Eder

Presents a picture of Italy you won't get from any tourist board… sympathetic and lively.
— Micahel Upchurch

Tim Parks has reinvented the narrative of the train journey with an epic voyage into the essence of Italy itself. With a novelist's keen eye he mines absurdity and deep meaning from small, overlooked moments and gestures.
— Tom Vanderbilt, author of Traffic

This is the best book I've ever read about Italy. Never have I encountered a more insightful and hilarious insider/outsider portrait of the country at the center of Western civilization. Tim Parks should be given a villa in Rome and the title of English ambassador.
— Sean Wilsey, author of Oh the Glory of It All

Engrossing, entertaining, and wonderfully revealing about the country and its people. It makes perfect armchair travelling – a delight from beginning to end.
— David Lodge, author of Changing Places

Delightful [and] hilarious…. Combining wonderfully evocative prose with a wry analysis, Parks provides local color while continually seeking hidden social meaning…. The result is a fascinating portrait of a society that seems rooted in place no matter how fast it goes.