We're following all official guidelines to keep ourselves healthy on the job, and as a result, shipping may be delayed.
You will receive an email from our web orders team confirming that your order has been processed.
We thank you for your support and your patience at this challenging time.
The Hemingses of Monticello: An American Family (Paperback)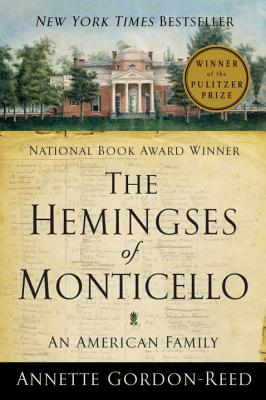 Description
---
Winner of the National Book Award and the Pulitzer Prize: "[A] commanding and important book." —Jill Lepore, The New Yorker
This epic work—named a best book of the year by the Washington Post, Time, the Los Angeles Times, Amazon, the San Francisco Chronicle, and a notable book by the New York Times—tells the story of the Hemingses, whose close blood ties to our third president had been systematically expunged from American history until very recently. Now, historian and legal scholar Annette Gordon-Reed traces the Hemings family from its origins in Virginia in the 1700s to the family's dispersal after Jefferson's death in 1826.
About the Author
---
Annette Gordon-Reed is the Charles Warren Professor of American Legal History at Harvard Law School. She lives in New York City and Cambridge, Massachusetts.
Praise For…
---
A sweeping, prodigiously researched biography.
— Motoko Rich

A monumental and original book.
— Fergus Bordewich

A brilliant book…It marks the author as one of the most astute, insightful, and forthright historians of this generation.
— Edmund S. Morgan and Marie Morgan

[A] very important and powerfully argued history of the Hemings family…[Gordon-Reed] has the imagination and talent of an expert historian.
— Gordon S. Wood

A riveting and compassionate family portrait that deserves to endure as a model of historical inquiry…stands dramatically apart for its searching intelligence and breadth of humane vision…We owe Annette Gordon-Reed tremendous thanks.
— Kirk Davis Swinehart

The Hemingses of Monticello makes a powerful argument for the historical significance of the Hemings family not only for its engagement with a principal architect of the early Republic, but also for the ways the family embodies the complexities and contradictions of slavery in the United States. 

— James Smethurst

The Hemingses of Monticello by Annette Gordon-Reed, a historian and law professor, is a doorstop corrective to early American history, painting a composite portrait of a family that stood at the wellspring of the Jefferson, slave Sally Hemings, their children and kin fascinate and surprise. 


Because of Gordon-Reed, Hemings and her ancestors and descendants achieve full personhood. For that, the author deserves praise and lots of readers. 

An epic saga of the Hemings family, whose bloodline has been mixed with that of Thomas Jefferson since our third president took slave Sally Hemings as a mistress. 

Gordon-Reed has pulled off an astonishing feat of historical re-creation, involving equal measures of painstaking archival detective work, creative historical imagination, and balanced judgment.
— François Furstenberg

As the title suggests, The Hemingses of Monticello: An American Family brings an entire family out of the historic shadows that have been cast across Jefferson's famous Virginia home. The book succeeds on this score by showing how generations of Hemingses labored at Monticello. It offers a stunning illustration of the tragedy that slavery could wreak. 


Hemings and her extended family receive a worthy biography. 

The Hemingses of Monticello explores a thorny but important chapter in American history with distinction and clarity, offering a poignant, if also often ugly, chronicle of slavery, secrecy and family tension. 

— Ron Wynn