Let the People Rule: Theodore Roosevelt and the Birth of the Presidential Primary (Hardcover)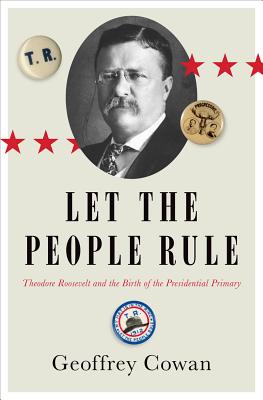 $27.95

Special Order—Subject to Availability
Description
---
"Cowan has brought to life a fascinating part of TR's story usually left out of the history books. He tells it with verve and suspense, warts and all, his insights deepened by his own impressive background as a democracy activist."—Adam Hochschild, author of To End All Wars
Let the People Rule tells the exhilarating story of the four-month campaign that changed American politics forever. In 1912 Theodore Roosevelt came out of retirement to challenge his close friend and handpicked successor, William Howard Taft, for the Republican Party nomination. To overcome the power of the incumbent, TR seized on the idea of presidential primaries, telling bosses everywhere to "Let the People Rule." The cheers and jeers of rowdy supporters and detractors echo from Geoffrey Cowan's pages as he explores TR's fight-to-the-finish battle to win popular support. After sweeping nine out of thirteen primaries, he felt entitled to the nomination. But the party bosses proved too powerful, leading Roosevelt to walk out of the convention and create a new political party of his own.
Using a trove of newly discovered documents, Cowan takes readers inside the colorful, dramatic, and often mean-spirited campaign, describing the political machinations and intrigue and painting indelible portraits of its larger-than-life characters. But Cowan also exposes the more unsavory parts of TR's campaign: seamy backroom deals, bribes made in TR's name during the Republican Convention, and then the shocking political calculation that led TR to ban any black delegates from the Deep South from his new "Bull Moose Party."
In this utterly compelling work, Cowan illuminates lessons of the past that have great resonance for American politics today.
About the Author
---
Geoffrey Cowan, former president of the Annenberg Foundation Trust at Sunnylands and the Annenberg Family Chair in Communication Leadership at the University of Southern California, is the best-selling author of The People v. Clarence Darrow. He lives in Los Angeles.
Praise For…
---
A lively, relevant primer in the sausage-making of candidate selection....Few historians have given this shameful chapter in the Progressive Party the attention that it deserves, and Cowan's documentation, drawn mostly from newspaper accounts from the summer of 1912, is compelling.
— Thomas Curwen - Los Angeles Times

Cowan tells his story with great verve.
— H. W. Brands - Washington Post

Brings new insight to a well-worn story…. Cowan paints an admirably nuanced picture of Roosevelt.
— Ari Berman - New York Times Book Review

The 1912 presidential campaign makes for a dazzling story, and Mr. Cowan tells it well…. [he] brings fresh depth and breadth to this sordid tale. Thus do we see, through his research and deft storytelling, how reform movements are often encased in self-interested cant.
— Robert Merry - Wall Street Journal

A fascinating tale…. I found this book revelatory.
— Janet Napolitano, President, University of California

A suspenseful narrative, replete with larger-than-life personalities, and a must-read backstory for anyone concerned with the history and fate of a democracy that, at its best, aims to 'Let the People Rule.'

— Henry Louis Gates, Jr., Alphonse Fletcher University Professor, Harvard University

You wouldn't think that there would be anything new to say about Theodore Roosevelt by now. But Geoffrey Cowan has brought to life a fascinating part of TR's story usually left out of the history books. He tells it with verve and suspense, warts and all, his insights deepened by his own impressive background as a democracy activist.
— Adam Hochschild, author, To End All Wars: A Story of Loyalty and Rebellion, 1914-1918

Cowan has written a rich, eye-popping political history. Teddy Roosevelt was a progressive hero, but he could
play as rough as today's most cynically expedient politicians.
— Evan Thomas, author of Being Nixon and Robert Kennedy

Rips the lid off of the 1912 presidential
election. Cowan brilliantly illuminates everything from the birth of the political
primary system to the disenfranchisement of African Americans to egos writ large.
The narrative has a marvelous flow and the research is superb.
— Douglas Brinkley, professor of history at Rice University and author of The Wilderness Warrior: Theodore Roosevelt and the Crusade for America

Cowan has brilliantly re-created a pivotal moment in American political history…brought vividly to life through dogged and creative research and graceful storytelling. Political junkies across America are buckling in for another tumultuous primary season in 2016—and they couldn't find a better way to prepare than to devour this rollicking and remarkably current tale of how it all began, over a century ago.
— Ronald Brownstein, editorial director for strategic partnerships, Atlantic Media

A fresh and perceptive look… Based on extensive research in original sources, Let the People Rule laces striking information on TR's race against President Taft with new insights and a fresh and important analysis. Let the People Rule is the book to read on Roosevelt's pivotal year.

— Lewis L. Gould, author of The Republicans: A History of the Grand Old Party

For those of us who believe that modern American politics began at the turn of the twentieth and not the twenty-first century, Geoff Cowan has produced a fresh contribution to the argument. The modern mechanics of presidential selection, the rise of candidacies largely independent of party, and the mobilization of autonomous supporters: all come to life in Let the People Rule.

— Byron E. Shafer, Hawkins Chair of Political Science, University of Wisconsin