We're following all official guidelines to keep ourselves healthy on the job, and as a result, shipping may be delayed.
You will receive an email from our web orders team confirming that your order has been processed.
We thank you for your support and your patience at this challenging time.
Archangel: Fiction (Hardcover)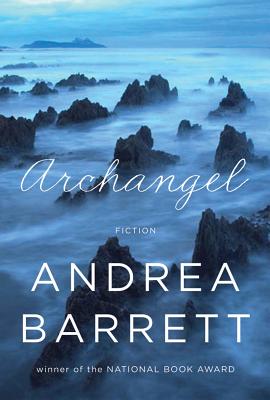 Out of Print in This Format
Description
---
"[Andrea Barrett's] work stands out for its sheer intelligence…The overall effect is quietly dazzling."—New York Times Book Review
Winner of the National Book Award for her collection of stories
Ship Fever
, Andrea Barrett has become one of our most admired and beloved writers. In this magnificent new book, she unfolds five pivotal moments in the lives of her characters and in the history of knowledge.
During the summer of 1908, twelve-year-old Constantine Boyd is witness to an explosion of home-spun investigation—from experiments with cave-dwelling fish without eyes to scientifically bred crops to motorized bicycles and the flight of an early aeroplane. In 1920, a popular science writer and young widow tries, immediately after the bloodbath of the First World War, to explain the new theory of relativity to an audience (herself included) desperate to believe in an "ether of space" housing spirits of the dead. Half a century earlier, in 1873, a famous biologist struggles to maintain his sense of the hierarchies of nature as Darwin's new theory of evolution threatens to make him ridiculous in the eyes of a precocious student. The twentieth-century realms of science and war collide in the last two stories, as developments in genetics and X-ray technology that had once held so much promise fail to protect humans—among them, a young American soldier, Constantine Boyd, sent to Archangel, Russia, in 1919—from the failures of governments and from the brutality of war.
In these brilliant fictions rich with fact, Barrett explores the thrill and sense of loss that come with scientific progress and the personal passions and impersonal politics that shape all human knowledge.
About the Author
---
Andrea Barrett is the author of The Air We Breathe, Servants of the Map (finalist for the Pulitzer Prize), The Voyage of the Narwhal, Ship Fever (winner of the National Book Award), and other books. She teaches at Williams College and lives in northwestern Massachusetts.
Praise For…
---
At last! It's finally here: the astonishing new collection from that genius-enchantress, Andrea Barrett. Who but Barrett can take on the inscrutable elegance of the cosmos and the messy complexity of the human heart in a single story? In her joy-to-read prose, with scientific precision and warm insight, Barrett translates the unknown into our world of reference. Her characters' thirst for discovery is contagious, and every story in Archangel is suffused with the most miraculous horizon light.

— Karen Russell, author of Swamplandia! and Vampires in the Lemon Grove

The award-winning author returns with another collection of stories distinguished by uncommon scope and depth…. Barrett's stories rank with the best.

Barrett's consummate historical stories of family, ambition, science, and war are intellectually stimulating, lushly emotional, and altogether pleasurable.
— Donna Seaman

Barrett, whose novel Ship Fever won the 1996 National Book Award, dwells on the intersections between science… and ethics…. Her training in biology and her meticulous research allow Barrett to speak of facts with authority, but in this powerful collection of five long stories, the facts come through the eyes of lost, lonely, elusive "investigators." ...[T]here is indeed a sense of expansion as one travels onward in Barrett's world, and pleasure in watching it fill out.


An elegant new story collection… Barrett frequently telescopes out of human frailty to an almost cosmic realm.
— John Freeman

Does anyone write with a calmer authority than Andrea Barrett? …Archangel… ranks right up there with her National Book Award-winning Ship Fever.

— Lloyd Sachs

Pulls us relentlessly away from false comforts, into the dazzling, often chaotic, world as it really is.
— April Bernard

An evocative, sepia-toned beauty…. Lovely, lambent prose, balanced and graceful.
— Michael Lindgren
Coverage from NPR