The Influencing Machine: Brooke Gladstone on the Media (Hardcover)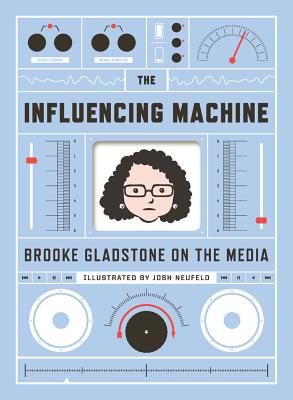 $23.95
Special Order—Subject to Availability
Description
---
A visionary and opinionated work of graphic nonfiction on the media and its discontents.
Nearly one million weekly listeners trust NPR's Brooke Gladstone to guide them through the distortions and complexities of the modern media. This brilliant radio personality now bursts onto the page as an illustrated character in vivid comics drawn by acclaimed artist Josh Neufeld. The cartoon of Brooke conducts the reader through two millennia of history-from the newspapers in Caesar's Rome to the penny press of the American Revolution and the manipulations of contemporary journalism. Gladstone's manifesto debunks the notion that "The Media" is an external force, outside of our control, since we've begun directly constructing, filtering, and responding to what we watch and read. With fascinating digressions, sobering anecdotes, and brave analytical wit, The Influencing Machine equips us to be smart, savvy, informed consumers and shapers of the media. It shows that we have met the media and it is us. So now what?
About the Author
---
Brooke Gladstone is the host of NPR's On the Media and former senior editor of All Things Considered. She has won numerous awards for her work including two Peabody Awards and a National Press Club Award. She lives in Brooklyn, New York.

Josh Neufeld is the author of the New York Times bestseller A. D.: New Orleans After the Deluge and A Few Perfect Hours. He lives in Brooklyn, New York.
Praise For…
---
This is a comic book with zest and brains---and it just might help a reader understand the brave new world.
— New Yorker

...The Influencing Machine is an original work, a highly researched yet highly accessible survey of all things media—from the history of media/journalism beginning in ancient Rome through the Mayan scribes to the First Amendment press freedoms of the U.S. Constitution and beyond—and how the media's mission and its means have advanced through history.

— Calvin Reid - Publishers Weekly

Starred Review. Though the graphic format employed here is often playful and always reader friendly, this analysis of contemporary journalism is as incisive as it is entertaining, while offering a lesson on good citizenship through savvy media consumption….While some may see a sign of bias in the author's own media affiliation, this historical analysis of how and why media and society shape each other should prove illuminating for general readers and media practitioners alike.
— Kirkus Reviews

One of the coolest and most charming book releases of this year… a refreshingly alternative approach to the age-old issue of why we disparage and distrust the news.
— Kirstin Butler - The Atlantic

Think Art Spiegelman meets Marshall McLuhan.
— Leon Neyfakh - New York Observer

Like Malcolm Gladwell or Michael Lewis or Michael Pollan, Brooke somehow takes a subject most of us don't give a damn about and makes it completely entertaining.
— Ira Glass, host of This American Life

The Influencing Machine is an indispensable guidebook for anyone who hopes to navigate the mirages and constantly shifting sands of our media landscape. Brooke Gladstone's text and Josh Neufeld's images illuminate one another with crackling wit and intelligence.

— Alison Bechdel, author of Fun Home

Brooke Gladstone's The Influencing Machine is so remarkable that it is hard to describe. The best I can do is: it's a book about the history and current controversies of the media, all done as a Spiegelman-style comic-strip narrative. Brooke herself (or at least an avatar) leads you through it all, and her 'voice'—well known after her years as host of NPR's On the Media—comes through loud and clear, thanks to Josh Neufeld's witty drawings. I learned a lot, including a lot that I should have known already, and enjoyed every minute.

— Michael Kinsley, author of Please Don't Remain Calm

A first-rate comics manifesto. The Influencing Machine has influenced me to think much more deeply about the media landscape live in. Gladstone and Neufeld can show and tell with the best of 'em.

— Scott McCloud, author of Understanding Comics
Coverage from NPR