We're following all official guidelines to keep ourselves healthy on the job, and as a result, shipping may be delayed.
You will receive an email from our web orders team confirming that your order has been processed.
We thank you for your support and your patience at this challenging time.
A Human Eye: Essays on Art in Society, 1996-2008 (Hardcover)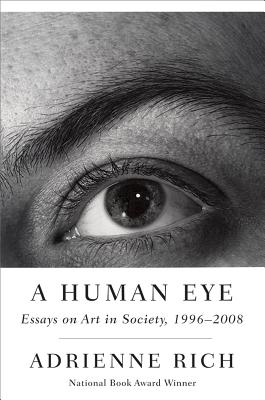 Out of Print in This Format
Description
---
One of America's most distinguished poets explores the complex relationship between art and social justice.
Over more than three decades Adrienne Rich's essays have been praised for their lucidity, courage, and range of concerns. In
A Human Eye
, Rich examines a diverse selection of writings and their place in past and present social disorders and transformations. Beyond literary theories, she explores from many angles how the arts of language have acted on and been shaped by their creators' worlds.This powerful new collection includes a stirring response to the anthology
Iraqi Poetry Today
, a critique of three classic socialist manifestos, and a rereading of
The Dead Lecturer
, an early volume of poems by LeRoi Jones. Rich engages the impulse to make art that both impels toward and interacts with social change, a theme she also traces through the letters of poets Robert Duncan and Denise Levertov, gay and lesbian politics and poetry, and influential texts on Zionism and the Jewish diaspora.
About the Author
---
Widely read, widely anthologized, widely interviewed, and widely taught, Adrienne Rich (1929–2012) was for decades among the most influential writers of the feminist movement and one of the best-known American public intellectuals. She wrote two dozen volumes of poetry and more than a half-dozen of prose. Her constellation of honors includes two National Book Awards, a MacArthur Foundation "genius" grant, and a Medal for Distinguished Contribution to American Letters by the National Book Foundation. Ms. Rich's volumes of poetry include The Dream of a Common Language, A Wild Patience Has Taken Me This Far, An Atlas of the Difficult World, The School Among the Ruins, and Telephone Ringing in the Labyrinth. Her prose includes the essay collections On Lies, Secrets, and Silence; Blood, Bread, and Poetry; an influential essay, "Compulsory Heterosexuality and Lesbian Existence," and the nonfiction book Of Woman Born, which examines the institution of motherhood as a socio-historic construct. In 2010, she was honored with The Griffin Trust for Excellence in Poetry's Lifetime Recognition Award.